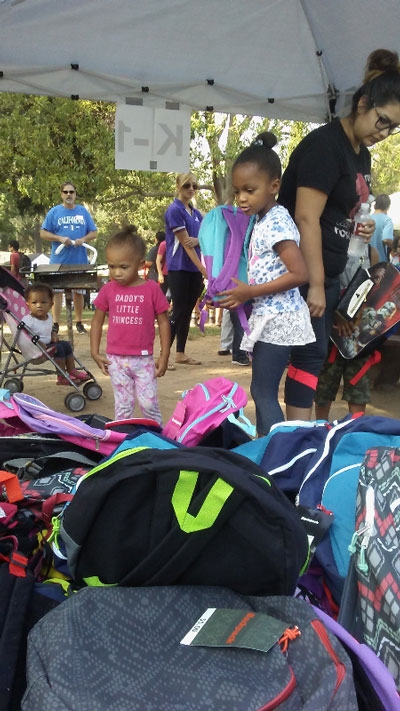 On Saturday morning before the new school year over 1,000 Redlands students from Kindergarten to 12th grade patiently and eagerly waited in line to choose a brand new backpack filled with school supplies. The Redlands Police Department and Micah House, with the help of numerous local businesses and organizations, hosted the annual Back2School Jam and Community Resource Fair at Sylvan Park.
"This is always a rewarding event," said Redlands Police Chief Mark Garcia. "This event provides the kind of support that gives our community's youth a better start in school. I am grateful for all of the City staff and community volunteers who took time out of their Saturday to make this day a success."

An estimated 1,500 backpacks were collected, the leftover 500 will be donated to the San Bernardino Unified School District, said Lisa Salas, House Director at Micah House.
"We are able to collect such an abundance of backpacks because of the tremendous support we have from the community," Salas said. "To see the community band together like this is truly amazing."
The Redlands Unified School District handed out nearly 4,000 pairs of free shoes, and event attendees were treated to free snacks, resources and entertainment.
"It's rewarding to see the expressions on these kids' faces," said Officer Chris Mead, event coordinator for the second year. "Events like this offer the opportunity to foster and promote good relations between the police department and the community we serve."
The event also provided a unique occasion for elementary-aged students to serve their community. According to Salas approximately two-dozen youth volunteered to stuff backpacks prior to the event and to help with various tasks on the day of. They also distributed flyers announcing the event in the city's north side.
"There aren't many opportunities that allow young students to volunteer in their community," Salas said. "During this event we were able to show students that there are opportunities to serve regardless of age.
Various groups including the Redlands Police Officers Association, Trinity Church, Tom McGrath School Supplies, and grants from the Redlands Police Department funded donations.
Other participating groups and agencies included First Lutheran Church of Redlands, 180 Degrees Food Program, City of Redlands Quality of Life Department and Human Relations Commission, IEHP, 66ers Baseball, Redlands Unified School District, Redlands Fire Department, CHP, Fuente de Vida, Automobile Club of Southern California, and Massage Envy.
"I am grateful for all of the City staff and community volunteers who took time out of their Saturday to make this day a success," concluded Chief Garcia.