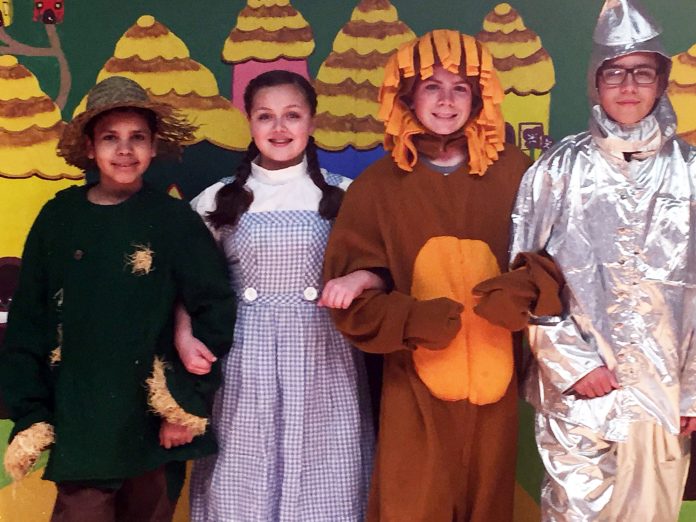 Over 100 members of the Clement Middle School Drama Department will be performing or working backstage during the March 1 and 2 production of the classic play "The Wizard of Oz." This beloved tale, in which a Kansas farm girl travels over the rainbow to discover the magical power of home, has been entertaining audiences for generations and this production, in rehearsal since October, will feature the familiar songs.
The actors, singers and dancers, under the direction of Vocal Director Debbie Biddick and Choreographer Kirkland Robinson, will perform the wonderful songs of "Over The Rainbow," "Ding Dong! (The Witch Is Dead)," "Jitterbug," "If I Only Had A Brain/A Heart/The Nerve," "We're Off To See The Wizard," "If I Were King Of The Forest" and "The Merry Old Land of Oz."

It follows the storyline of the classic MGM film, ultimately having wondrous adventures and marvelous discoveries in the Emerald City. After a tornado sweeps Dorothy from her Kansas home, she encounters a Wizard, Good and Wicked Witches, Munchkins and talking trees. Dorothy, with her new friends, a Scarecrow, Lion, The Tinman and Toto too, journey together down the Yellow Brick Road on a quest to find heart, courage, brains and, most importantly, that "there is no place like home."
The students working behind the scenes are: Stage Manager Josh Bennecke; Assistant Stage Manager and Sound Effects Logan Johnson; Lights JB Goebel; Sound Oscar Castillo and Josiah Garcia; Back Panel Reylene Mejia, Kaitlyn Denny and Ethan Morse and Spotlights Jordan Gutirrez and Christian Zarate. All tech workers are under the direction of Mr. James Roberts.
Costumes were made under the expert supervision of Elizabeth Machado and her crew Jasmin Aceves, Maria Norton and Kaylie Nelson. The Makeup Crew consists of Juliette Leathers, Hannah Edwards, Jessica Doherty, Serentity Donaldson, Emily Jones, Raquel Ventura and Alyssa Kalanjian. The Props Department, working under the direction of Ms. Valerie Seleska, includes Kayden Zug, Ryan Colunga, Ajae Garcia and Samya Mille. The Ushers are Cosette Cable, Alyssa Regalado and Jessica Doherty.
The students of the painting crew, under the direction of Ms. Rhea-Frances Tetley and Ms. Carrie Freed were Juliette Leathers, Alex Avilez, Amelia Cox, Yzabella Rincon, Mia Cosic, Minka Cumbrani and Celine Hill, who both designed and painted the sets.
Chorus members who sing and dance, including the Jitterbugs, Lollypop League, Lullaby League and Ozian dancers, are Delaney Werner, Talia Hatchett, Heidi Salazar, Josh Earl, Haylie Abel, Jorja Pinder, Ellasyn Arnett, Myah Baeza, Audrey Davalos, Bryce Nakunz, Lucy Bryan, Abigail Lane, Malakhai Currie, Ariana Romero, Lucy Bryan, Celine Hill, Natalie Aguirre, Ariyana Franklin, Olivia Beaumont, Josh Earl, Samantha Tejeda, Ethan Wilson, and Jorja Pinder. Each singer and dancer performs in several numbers.
The Monkies are Delaney Werner, Myah Beaza, Talia Hatchett and Jorja Pinder. Nikko is Delaney Werner. The Winkies are Abigail Lane, Audrey Davalos, Bryce Nakunz, Malakhai Currie and Josh Earl as their leader. The Munchkins are Haylie Abel, Delaney Werner, Celine Hill, Ellysyn Arnett, Ariyana Franklin, Myah Baeza and Lucy Bryan, with Malakahi Currie as The Coroner and Talia Hatchett as the Mayor.
Dorothy is Pearl Solis, while her understudy is Abigail Lane. Auntie Em is Samantha Tejeda, whose understudy is Olivia Beaumont. Uncle Henry is Ethan Wilson, The Lion is Brody Buyak, whose understudy is Malakhai Currie; Scarecrow is Freeland Gonzalez, Tinman is John William Hudson, the Wicked Witch is Alexa Janzen, Good Witch Glinda is Olivia Beaumont, whose understudy is Abigail Lane. The Wizard of Oz is Jack Bryan.
It's really demanding on a dog to be in a show, with so many rehearsals, so Clement Drama Director Mrs. Kay Roberts has chosen two dogs, Charlie and princess to perform the role of Toto.
Performances of "The Wizard of Oz" are set for 7 p.m. Friday and Saturday, March 1 and 2, 2019 in the Clement Multi Purpose Room Theater. Reserved seats are $10, general admission adult seating tickets are $8 and student general admission seats are $5. . Clement Middle School is located at 501 Pennsylvania Avenue in Redlands. Call (909) 307-5400 X 41808 for advance reserved tickets. "The Wizard of Oz," written by L. Frank Baum, is adapted for the stage and performed under a performance agreement from Tams Witmark and produced under the auspices of Clement Principal Robert Clarey. Tickets will be available beginning at 6:30 p.m. at the door, unless sold out in advance.
By Rhea-Frances Tetley