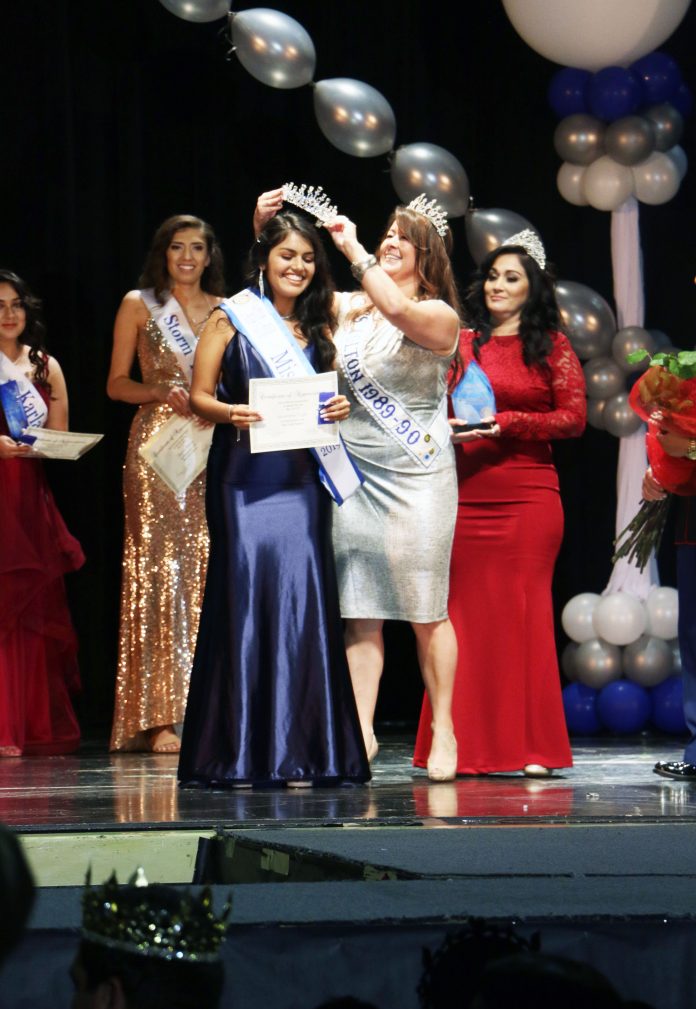 After over 20 years the Miss Colton Pageant has returned to Colton to finally crown its next queen. Eight young ladies ranging from high school to college students competed for the title on May 19th at Colton High School's Whitmer Auditorium.
The event was sponsored by the Colton Rotary Club, an organization that gathers business and professional leaders together in order to provide humanitarian and advance goodwill in their communities. The Rotary Club wanted to organize an event that would bring the community together in support of their own, to jump start the event they contacted Erlinda Armendariz.

Armendariz was contacted by the Rotary Club due to her 15 years of experience in pageantry which included being a Miss Colton pageant director in 2005, successfully founding the Golden State Pageant, and starting Fairy Godmother Shop, where she designs and creates formal wear and costumes. She jumped at the chance to become the Director for this revitalized pageant.
"I wanted to help the community and create an event with the Rotary Club that would bring the community together, while also helping give the girls an opportunity to help their education," said Armendariz.
To help with cost for the contestants, each girl was sponsored by a local business which included Colton Cuts Barber Shop, Sushi Miguel's, What's Popping, Leno's Rico Taco, Karla's Flowers, Storm Trooper Coaches, Vengeance Ink Tattoo, and CR&R.
Upon entering the pageant on that chilly Sunday afternoon, the audience was greeted by San Bernardino High School Mr. Cardinal and his court in their elaborate golden crowns and crimson sashes. A catwalk was attached to the stage and balloon arches with a silver shimmery background decorated the stage itself.
The pageant started off excitedly as the contestants performed an opening number dance routine, while introducing themselves to the cheering crowd and panel of judges. Next the girls presented their sportswear, each girl showed a striking amount of confidence as they strutted down the catwalk.
Soon after the contestants created an audible gasp of wonderment as they were escorted down the runway in their formal wear, followed by on-stage questions ranging from who inspired them, goals they have set for themselves, and how they hope to improve the world.
Past winners of Miss Colton and Little Miss Colton were also in attendance to crown the winner of the 2019 pageant.
"This is a wonderful event that brings the community together and helps us to support each other, I'm glad they brought it back," said Carolyn Lujan-Gonzales, 1962 Miss Colton winner.
It was time to announce the winners – the girls held hands in anticipation for the final declaration, demonstrating the bond they had created while competing together.
Saray Macias won Miss Congeniality, Merina Delgado won Miss Photogenic, and Savannah Medina won the People's Choice award. Each contestant received a trophy along with a certificate and sash for their placements. Finally the princesses were announced, second runner up was awarded to Savannah Medina, and first runner up was awarded to Jessikah Ybarra.
The Miss Colton winner was Alexandria Trujillo, who was shocked by her win and couldn't hold back her excited smile and joy at her victory.
"I feel ecstatic and I feel like everyone should have the encouragement to go try for something they want, and I'm so excited that I get to share this moment with my family," said Trujillo.
Plans for next year's Miss Colton pageant are already in the works, and applications for contestants and sponsors are already available.