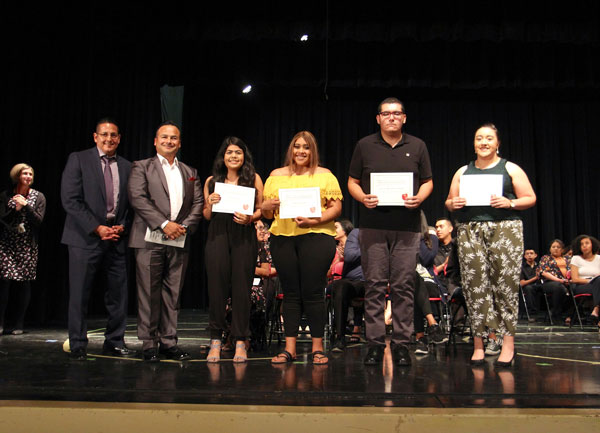 Congratulations to our APPLE Scholarship recipients for the Class of 2018!
The following 20 students are receiving a total of $25,000 in various amounts to help them pursue their personal paths to lifelong education.
Bloomington High School:  Lorena Leyva, Esmeralda Tabares,  Alexia Camacho, Daniela Lopez,  Evelyn Luna, Allison Enriquez,  Eduardo De Anda, Brandi Brito, Jennica Pioquinto, Haydee Gallegos, Natali Carmona, and Abraham Padilla
Colton High School:Teresa Verduzco Villa, Jesse Morales Zuniga, Alyssa Lopez, and Elisa Soto
Grand Terrace High School: Angel Hernandez, Michala Broadway, and Jacob Torres
Redlands East Valley High School: Allison Axelrod
The Colton Joint Unified School District A.P.P.L.E. Scholarship Foundation is a non-profit organization established in the fall of 2001 by district employees to provide scholarships to CJUSD students as well as the children or grandchildren of CJUSD employees as they continue their path of lifelong education.
Since inception, A.P.P.L.E. Scholarship Foundation has awarded over $370,000 in scholarships to graduating seniors affiliated with the Colton Joint Unified School District. Scholarship funds are paid directly to accredited educational institutions on behalf of our recipients for tuition and books. The A.P.P.L.E. Foundation encourages students to apply for scholarships toward technical career training programs as well as college.
These awards are made possible by the many district employees and community members who support the APPLE Scholarship Foundation.