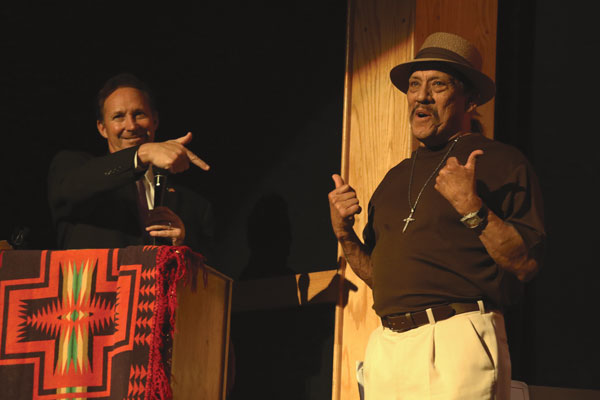 Behind the prison walls of Soledad Prison nearly 50 years ago, his mind was a thousand miles away–thinking of redemption.
"I made a promise to myself to die in dignity," Actor Danny Trejo explained to about 100 people at San Gorgonio High School last Wednesday night. "After I was released in 1969, I dedicated my life to helping other people."

Trejo was the keynote speaker during San Bernardino City Unified School District's Indian New School Year Gathering Family Night–an event held every year to share Native American culture to the community. Other notable guests included World Champion Native American Hoop Dancer Terry Goedel and Native American blues singer Tracy Lee Nelson.
When he's not working on Hollywood films or managing his Mexican restaurant, Trejo, 72, works as an intervention counselor in hopes of getting at-risk youth away from alcohol, drugs, and gangs.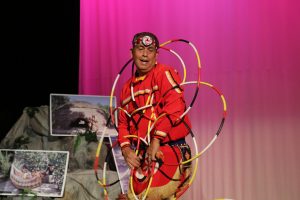 Trejo emphasized the importance of school to dozens of students by telling humorous tales about his youth. One in particular, dealing with him learning about the Yanomami tribe of Brazil during grade school, produced a lot of laughter from the crowd.
"My teacher explained to us, 'Class this [bracelet] was sent to me by the Yanomami tribe of the Amazon river," Trejo explained. "You can't say 'Yanomami' to a Mexican and not expect something. I started screaming, 'Ya no mami (No more mommy)'. Boy was I in trouble after that."
The action film star explained that the cost of drinking alcohol, doing drugs, and being involved in gangs is incarceration or death. He encouraged young people to help others in order to receive good luck in life.
"Education is the key to anything you want to do do," he said. "Alcohol and drugs will only ruin your lives. Once you get clean, your life will continue to get better and better. Everything good that has happened to me as happened as a direct result of helping other people."