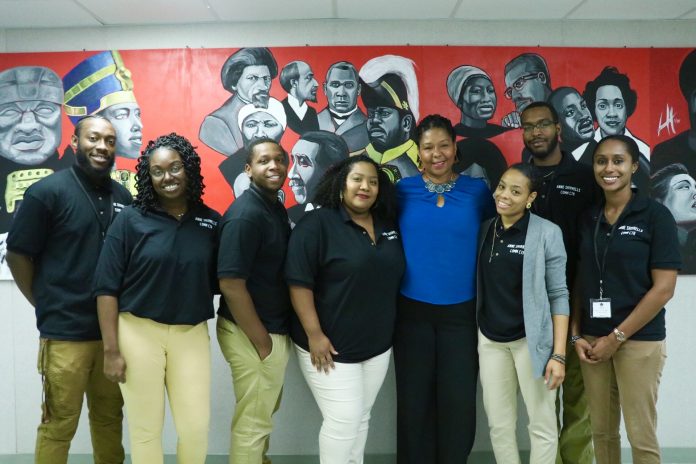 A popular nonprofit at Anne Shirrells Community Center received a new name and director. However, the aim for the group remains the same: serving the westside with love and dedication.
Akoma Unity Center, which replaces the United Nations of Consciousness as the organization providing educational and community services to San Bernardino residents, elected longtime westside community leader Kimberly Calvin as its executive director.

Akoma is the adinkra (West African symbol) for patience and tolerance, explained Calvin. The new logo, a heart depicting a child being embraced by an elder figure, is the indicator of their dedication to enhancing community growth, Calvin said.
"We want to make sure that our new name and image accurately reflects what we do," Calvin explained in a press release. "We are moving forward promoting positive youth development, engaging the community leadership and critical community partners and we wanted a more updated, streamlined look to match."
Calvin, who previously served as the organization's program manager, confirmed many of the center's programs–cultural enrichment activities and tutoring services–will stay in place. Yet she is looking to be more inclusive by providing more services to the Latino population and is hoping to work with multiple organizations to address issues.
"It's always been my passion to help those that are in need," Calvin said. "Our vision here is that we plan to change the westside one block at a time, one family at a time."
Calvin refrained from commenting on why Akoma decided to split with the United Nations of Consciousness name and with former Executive Director La'nae Norwood. She did say the organization will continue to have all rights to U.N.C.
However, Norwood told IECN the visions of U.N.C. and Akoma are going in two seperate directions. She said she'll continue to push United Nations of Consciousness' platform to various communities across Southern California.
"I'm very happy of the work and progress that we helped accomplish on the westside," Norwood said. "We wish the Akoma Unity Center the best."
---
Join our newsletter for weekly wrap-ups of our community coverage, exclusive advertising opportunities and local business specials!