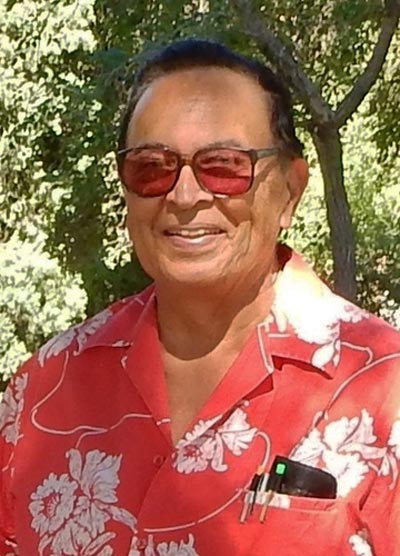 It will take one hundred years for those at Redlands High School to replace Al Sanchez. That's how long his family has been associated with the state's oldest public high school. Sanchez graduated from Redlands in 1951 and except for serving in the Army's 10th Mountain Troop Division, has volunteered continuously at his alma mater in numerous capacities. At 83, his wife Pat says he's too old "and it's about time."
Sanchez will also step away from his job as treasurer of the Redlands HS Benchwarmers booster club, a position he's held over 50 years. As the football team's official statistician since his appointment by coach Paul Womack in 1964, Sanchez has perhaps missed only a couple of games since. He's been the source to many in need of verifying a certain sporting event. His contributions have been so important that he was inducted into the Redlands Athletic Hall of Fame a couple years ago.
Sanchez can still rattle off the playbook from the Terrier's 1961 CIF championship football team. He was in attendance when Redlands won for its only such title after it defeated El Rancho 14-6. "Frank Serrao was our coach and the game was televised live from the Los Angeles Coliseum on Channel-11."  A few years earlier, he went to a game on the Redlands HS rooter bus when 16-year-old Joan Baez entertained by singing and playing the guitar. Before that he was on campus when Bob Hope and Doris Day taped a TV show in the Clock Auditorium. "Doris Day came out and talked to a few of us young boys. I've watched for her shows ever since."
The devoted Sanchez was at Redlands in the late 1950's when College Hall of Fame basketball coach Jerry Tarkanian led the Terriers. He watched former Green Bay Packer Jim Weatherwax make All-CBL in three sports, and he recorded all the stats for future Super Bowl winning coach Brian Billick when he intercepted 19 passes in three years at Redlands. He was in Seattle when ex-Terrier Julio Cruz was beginning his American League all-star career for the Mariner's.
"I remember when the Redlands HS baseball team once went to Colton. Ken Hubbs was playing for Colton. All of a sudden at the end of an inning Hubbs ran over to the nearby track meet. I watched him clear 6-feet in the high jump in his baseball uniform. He then quickly ran back onto the baseball field. Just amazing." Sanchez also coached NFL great Ronnie Lott at Rialto Eastern Little League and later watched him compete for Eisenhower.
Lott was also one of the many far-away-coincidences that Sanchez has been part of. While on a walk with a cousin in San Mateo, he noticed Lott was watering his yard. "I yelled at him. Hey Ronnie and he yelled back, Hey Mr. Sanchez. It was early in his career with the 49ers." Then in Neuremburgh, Germany, between innings of his Army troops' baseball game this guy bumped into him and knocked all his snacks onto the ground. "It was my buddy from Redlands High, Malcolm Olmos."
Also in Germany, he attended a USO show designed to entertain the troops. He noticed that one of the featured singers was former RHS classmate April Stahl (Ames). "At one point in the show, she asked the audience if they had any requests. "I stood up and yelled 'How about the Redlands High School fight song,'" Sanchez said a surprised Ames then had the spotlights illuminate him. She recognized him and invited he and some friends backstage afterwards.
The Sanchez family tie-in with Redlands HS began when his father, Al T. Sanchez attended there in 1917. He's had 27 aunts, uncles, and cousins who have either attended RHS or taught there. His uncle Bob Garcia was the Benchwarmers treasurer in 1952. Another uncle, Harry Munoz and his son were star baseball players at Redlands. Although Sanchez admits that he was not good enough to make any of the athletic teams, his father was a starting fullback as a freshman at University of Redlands. His dad took him to the U of R when the Los Angeles Rams trained there. He later was a ball boy for the Rams. "Pete Rozelle was Rams' president. He paid us in cash."
Now, also retired from Rohr Aircraft, Sanchez says he can fulfil Pat's request of taking a cruise into New England to witness the fall foliage season. "It's been something she has wanted to do but couldn't because I was always busy doing football stats every fall." Sanchez has also kept basketball and baseball stats at both home and away games for Redlands. "I think it's about time I started making more time for my wife."
He credits Pat with organizing much of his statistical work. "Without her I would be lost. She's never complained but I think she's going to be happy now."