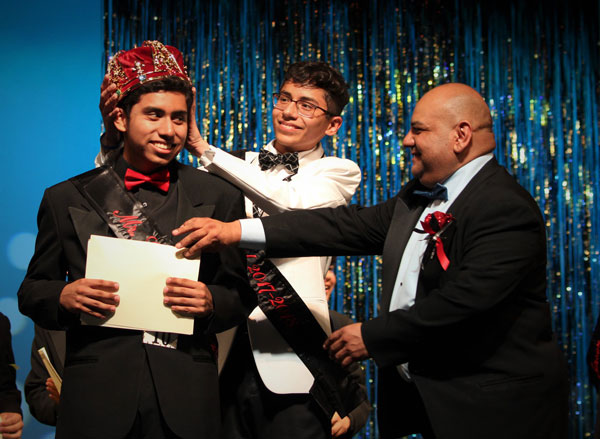 On Saturday night, April 7, 2018, San Bernardino High School crowned their 15th Mr. Cardinal during the yearly pageant that celebrates the best of the best in aspiring and service minded young men at San Bernardino High. This year's Mr. Cardinal is Alfonso Sanchez, 16, who is a junior.
In order to be a contestant, all young men must be doing well academically, have school spirit and have a desire to serve their fellow students and community through active participation in school and community activities.

Duties for the year they serve as Mr. Cardinal will include representing the school at various community and civic events, including city council meetings, and other service-oriented activities that make a positive difference for others.
"I want to go around and help fix the city by working together," said Sanchez of his new role as Mr. Cardinal, who also expressed a desire to work with the homeless. "I want to have one-on-one conversations with them, get to know them and help give them opportunities they don't have."
Sanchez said that he would also like to encourage other young people to do the same; he feels that sometimes young people don't understand the homeless or realize that they are just like everyone else.
"The homeless don't have opportunities that we have," he said. "But they're people just like us."
Along the same lines as working involving working with other youth, Sanchez feels that it's important to work with his peers on important matters, because they are the ones who in the future will be voting for decisions that affect the city.
After serving as Mr. Cardinal and after graduating from high school next year, Sanchez plans to attend UC Berkeley to major in economics and music. He said he would like to return to the city and maybe even run for city council, applying all the knowledge he's gained through the study of economics.
A talented musician, Sanchez plays coronet, tuba, cello and piano and plans to be a drum major next year with the San Bernardino High Marching Band. As far as life after school, music will continue to be a part of his life by either teaching others music or simply serving his community through it in one way or another.
And at his young age, this Mr. Cardinal has some sage wisdom to share with his peers about what it takes to be successful.
"Life is unfair, but no matter what comes at you, hard work will pull you up and out of it," he said.
For more information on the Mr. Cardinal Pageant, contact pageant founder and SBHS Bilingual Outreach Worker Jamie Rios at San Bernardino High School at 909-881-8217.
---
By Cynthia Mendoza