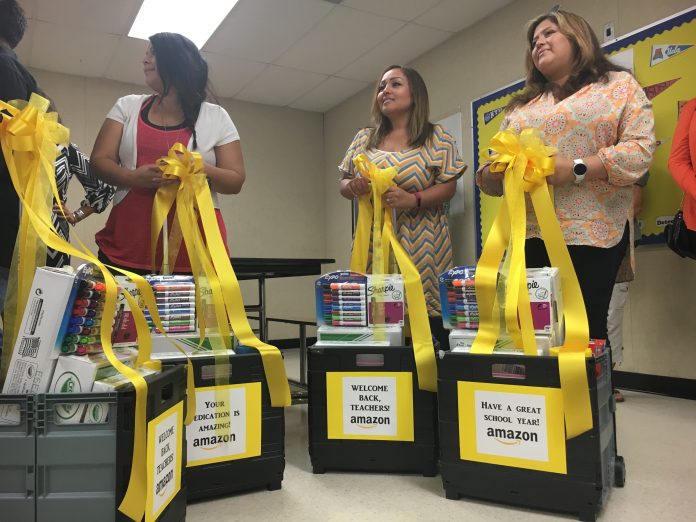 San Bernardino's Urbita Elementary School was the only educational site in southern California to receive approximately $10,000 in school supplies from online retailer Amazon.
As teachers finalized preparations for the beginning of the new school year last Thursday, they received a surprise from their principal Keith Keiper and Amazon staff. The 22 teachers who were present received rolling carts full of crayons, pencils, markers, art and printing supplies, and scissors.

Keiper believes the partnership between the school and Amazon came at the right time.
"This was an absolutely amazing opportunity for us," said Keiper. "What I really like about this is that it's giving back to the teachers. They do so much to give back to our kids. This just came together so well."
Teachers across the U.S. personally spend between $400 and $1,500 on school supplies each year for students, according to Amazon personnel. They say the special delivery to the Urbita teachers was an effort to ease any potential financial burden they may face and to help them  start the school year with the proper supplies to help their students "create, invent and imagine to their fullest potential."
"Amazon is proud to help share and celebrate the hard work of Inland Empire teachers who are doing everything they can to create a successful learning environment for their students," spokesperson Kelly Koehler expressed.
Linyen Carmenatti, a sixth grade teacher at the school, said receiving the items from Amazon was a blessing.
"We put a lot of money out of pocket," she said. "For them to come in and help us at the beginning of the year gives us a head start. This is a blessing not only for us as teachers, but for the kids. Seeing us work together as a community is good."