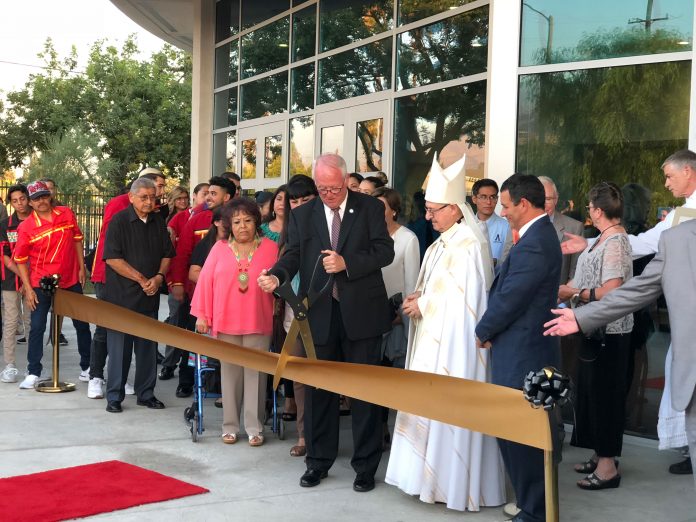 Special guests, alumni and dignitaries gathered to celebrate the grand opening of the cutting edge San Manuel Performing Arts Center at Aquinas High School on Thursday, Sept. 6. The facility that was made possible through the generosity of Shea Family Charities, the J.F. Shea Foundation and San Manuel Band of Indians.
The over 16,000-square-foot building holds a 336-seat auditorium, band rehearsal space, dressing rooms, and designated design and set building areas. The San Manuel Performing Arts Center will serve the students as well as the community at-large.

"For many years, our theater and band students were limited to the shared space of the old gym, and our larger productions needed to be held at the Sturges Center for the Fine Arts downtown," said Aquinas High School President, Jim Brennan. "Our mission is to give our students a quality education, which includes catering to the needs of all discplines. We are thrilled to now have the means to support those who wish to pursue the arts."
It is too early to say what productions may soon be seen at this center, however it does offer opportunity for ceremonies, conferences, dance and theater performances and concerts. Local theater groups will also have access to the San Manuel Performing Arts Center.
"San Manuel believes that the arts are essential to a community's vitality and social development. We are honored to support students in greater San Bernardino to develop a stronger sense of self through the power of the arts," said San Manuel Band of Mission Indians Chairwoman Lynn Valbuena. "As a community, our hearts are lifted with the sights and sounds of young talented actors, musicians and performers."