They've battled back to beat a few opponents and overcome injuries throughout the season. Despite some adversity, the Aquinas High School varsity football team are making their championship run look easy.
Since their heartbreaking 33-32 CIF Championship game loss to Long Beach St. Anthony's last season, the Falcons (13-0) have outscored their regular season and playoff opponents 686-99.
Nonetheless, Aquinas head coach Jordan Brusig isn't taking Friday's CIF-SS Division 9 championship lightly. He said his team's game at Ridgecrest Burroughs will be another stern test they will have to overcome.
"This is the reward for all the work that they've done," Brusig said. "We'll see what happens. We can prepare the only way we can. We're going to control what we can. The rest is in god's hands."
Aquinas will be led by seniors Branden Rankins, Joshka Gustav, Shalom Baafi, and Marceles Gooden.
Rankins, the team's star running back and the County's all-time rushing leader, has a total of 1,834 yards for the season. He had 17 rushes for 142 yards in CIF-SS Division 9 semifinal win over Cypress last week.
Every victory the Falcons have earned has brought them a step closer to a championship, expressed Rankins.
"We've been preparing for this game since summer," said Rankins. "Each opponent has taught us something different about our team. We've set goals and have set to accomplish them each week."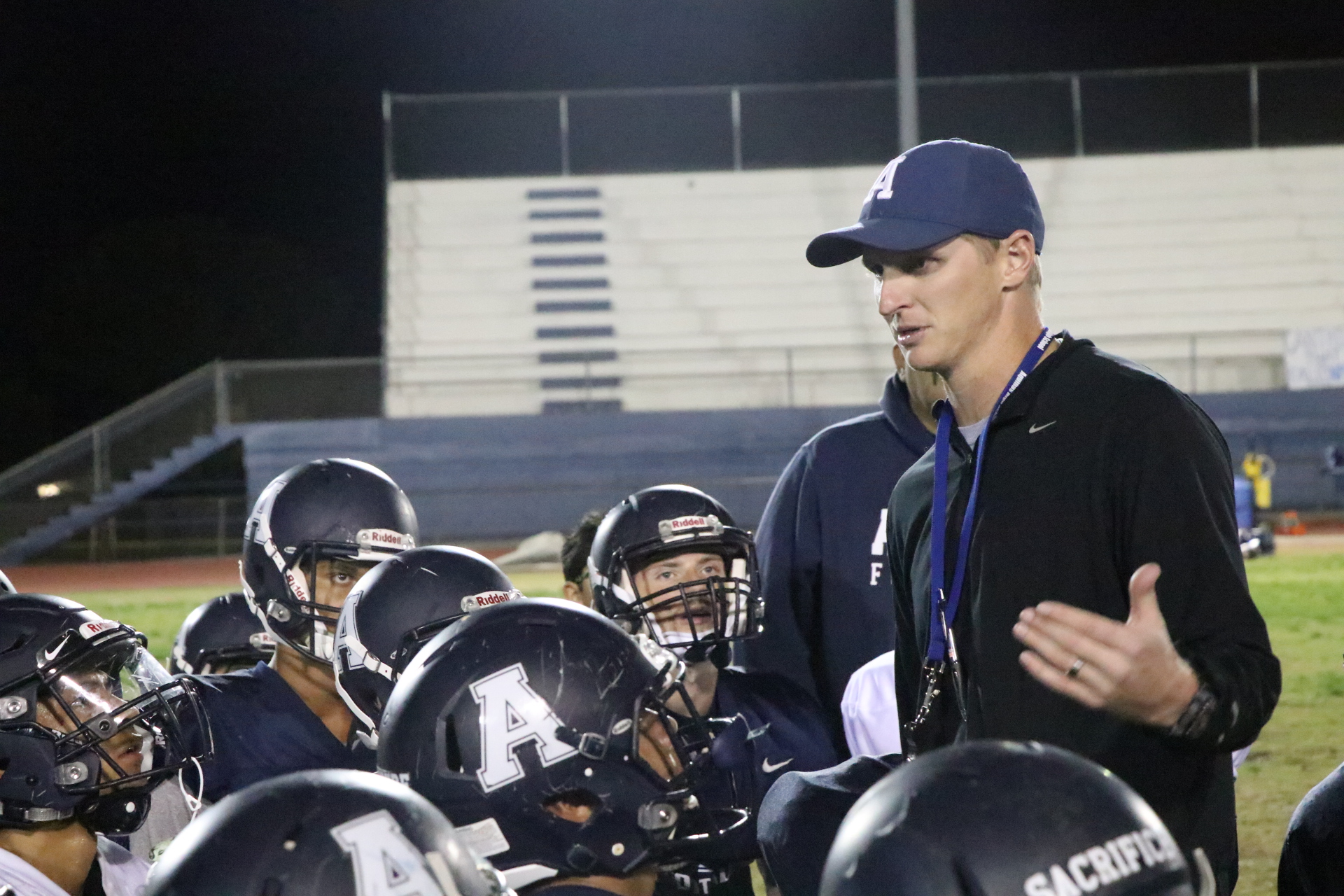 Gooden, who plays as a defensive back for Aquinas, admitted he's not taking Burroughs lightly and will be pouring everything on the field on Friday.
"When you're 13-0 it's easy to get cocky," he said. "It's the finals. We have to continue to play like we've been playing."
The four captains said it was a difficult experience losing by a close margin in last year's championship. That experience has served as their motivation to practice harder and play better.
"It just wasn't meant to be for us last year," Gustav said.
"Every practice we've gone out with a purpose now," followed Baafi. "It's like we're searching for those two points that we were short."
The Falcons are competing every day in the weight room and on the field, despite what critics say about their supposed "easy" route to CIF Championship.
"If teams don't want to compete with us, we're going to do it within ourselves," Gustav remarked.
The team captains believe there's a reason why they're back in a championship.
"God has blessed us with the opportunity we're in," said Rankins. "Most teams and players don't have the opportunity to make it to a final. We're here to seize the moment."