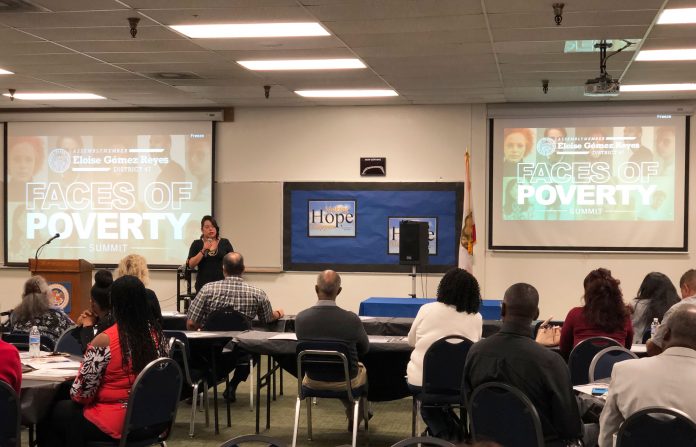 About 100 community members attended the Faces of Poverty Summit hosted by District 47 Assemblymember Eloise Gomez Reyes on Saturday, May 18th at the Inland Career Education Center.
"Currently just over 345,000 people in San Bernardino County are living in poverty. These are our family members, neighbors, and friends," said Reyes. "I made it my mission this year to do two things – ensure everyone is included at the table and ensure everyone receives their fair share. Today, we take one step closer to this mission."

The summit was a partnership between Reyes' office and United Way, Cal EITC, and the San Bernardino City Unified School District.
"Today we're diving into the poverty rate of the Inland region and it's psychological, emotional, and financial effects on our community," said 47th District Representative Darrell Frye.
Aside from Reyes' office, speakers included Blanca Lopez from CalEITC 4 Me, Effiedena Jordan from Inland Career Education Center, Kathy Mooney-Estes from Infinite Possibilities, Henry Gascon from United Way of California, Dr. Tolu Bamishigbin from Advancement Project California and a panel of speakers who discussed the trauma and fear of poverty.
"Today we are gifting a $5,000 grant to non-profits in attendance to expand our work on Volunteer Income Tax Assistance (VITA) and CalEITC 4 ME," said CalEITC 4 ME Inland Region Campaign Director Blanca Lopez.
"I'm so excited about this program and I can't make enough positive remarks about Reyes and her team…I'm so happy to be here. Thank you all for coming," concluded Lopez.
Another highlight at the Summit was when Infinite Possibilities Coordinator Kathy Mooney-Estes discussed understanding the culture of poverty.
She shared her experience growing up in poverty and taught attendees the difference between generational and situational poverty.
"Generational poverty is when a family is operating within that specific class system for two or more generations. Situational poverty is when a situation causes you to end up in poverty; those individuals likely have a skill set and eventually make it out of poverty," Mooney-Estes said.
During her discussion, she shared how individuals who are living in poverty develop a special survival skill set.
Another notion she shared was how many young poverty stricken students are afraid to leave their family to obtain an education and better themselves.
"When living in poverty…everyone, no matter the age, everyone plays a role in the household. So when a contributor of the household goes off and leaves for college, it messes with the operation of the household; many times parents call their children selfish for trying to leave to better themselves," Mooney-Estes said.
She also explained that when students leave to college without the support or consent of their parents, after completing their studies four or five years later, they come back home and their families often resent them for making the decision to better themselves.
Community members who attended the four hour summit also received lunch and closing remarks from Reyes.
"Coming together is the first step to solving poverty that is impacting so many in our community," concluded Reyes.