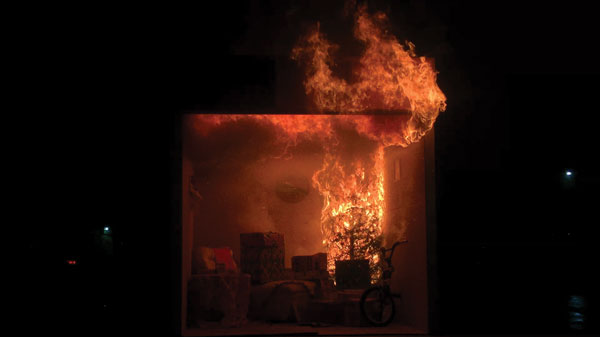 Redlands Fire Department is reminding residents that as they deck the halls this holiday season, to keep fire safety in mind.
Many residents have real Christmas trees in their home but without proper care, they can easily become a major fire hazard, and firefighters last week demonstrated just how flammable dry Christmas trees can be.

Station 261 on Citrus Avenue held a tree burn last week showing just how quickly flames can engulf a dry tree.
A 64 square foot mock living room was setup, complete with furniture, rug, curtains, and a decorated Christmas tree with presents underneath. When firefighters exposed the tree to flames, the holiday merriment was over.
Within 25 seconds smoke quickly banked down to the floor of the room "and that's the deadliest part of any fire — the smoke," said RFD arson investigator Rob Sandberg. The branches were fully engulfed and within another 15 seconds, fire had spread to the ceiling and to nearby furnishings. The entire room was thick with fire and smoke and flashover occurred within one minute. In less than two minutes, the entire room went up in flames.
"These fires can be intense and when that flashover happens everything down below is going to get hooked. When that tree gets going, get out of the house. Even if that were to happen in my house, everyone is getting out," said fire chief Jeff Frazier.
The demonstration was part of a critical public safety message to inform the community risk reduction through education.
"No call to 9-1-1 is the best call to 9-1-1," Frazier said. "The more we educate the community of safety education, the safer we can all be."
Frazier said additional safety demonstrations such as a hands-only CPR demonstration are in the works and will be open to the community.