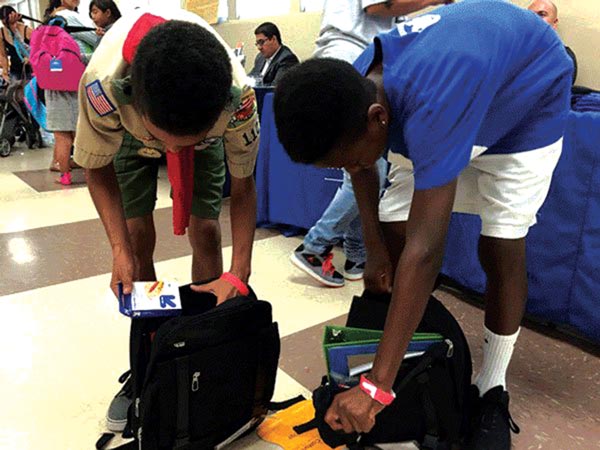 A local nonprofit known for giving back to area youth is turning to the community to help keep giving. Young Visionaries Youth Leadership Academy will host its 11th annual Back to School Backpack Giveaway Aug. 5 from 11 a.m. to 3 p.m. at the Rialto Community Center, 214 N Palm Avenue, and is need of backpack donations and school supplies to make the event a success for the community's youth, said Young Visionaries founder and CEO Terrance Stone.
"We want to make sure all of our youth go back to school with the necessary items for a fresh start," Stone said. "And that even includes a haircut."

The annual event brings out hundreds of families from throughout Rialto Unified to pick up a free, new backpack filled with school supplies for each school-aged child. Giveaways, free haircuts for children and resource information for parents from local agencies are also available at the event.
Last year's backpack giveaway drew more families than the estimated 500 the group had planned for, and to not turn children away empty handed, Rialto Mayor Deborah Robertson rallied donations for additional backpacks.
Nearly 1,500 backpacks were distributed to children at last year's event, with a few hundred more receiving a ticket voucher to return for a backpack later that afternoon.
So far, about 700 backpacks have been collected for the August event, but more are still needed seeing the growing need, Stone said.
In addition to the backpacks, the group is reaching out to community organizations and agencies for assistance in supplying paper, notebooks, pens and pencils and other school supplies to help fill the backpacks.
"The turnout last year was overwhelming," Stone said. "But I remember going back to school without a new backpack and haircut. I remember that feeling. I want to make sure these kids go back feeling their best."
Donations of backpacks and school supplies are being accepted now through the event date.
To assist with the event, provide donations and supplies or for vendor registration, email Amanda@yvyla-ie.org or call 909-723-1695.