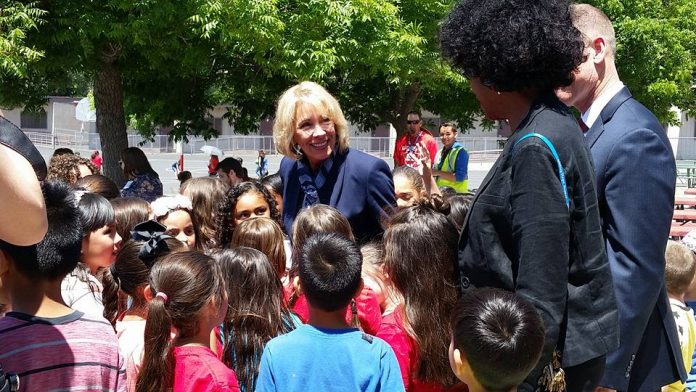 U.S Secretary of Education Betsy DeVos visited North Park Elementary on Friday to provide support to students, faculty, and staff following the April 10 shooting that left a teacher and a student dead.
According to a press release, DeVos spent her day at the school by eating lunch with students and read Dr. Seuss' "Oh, the Places You'll Go!" to the Kindergarten class.

DeVos later met in private with the families of Special Education teacher Karen Smith–one of two victims that died in the tragedy–and student Nolan Brandy who was wounded.
San Bernardino City Unified School District Spokeswoman Linda Bardere confirmed in an e-mail that the event was closed to the media.
The release also explained that DeVos was invited by District Superintendent Dr. Dale Marsden. The U.S. Department of Education and the district are reportedly working together to provide resources and support to North Park.
"My heart aches for the children and families impacted by this senseless tragedy, but my spirit soared to see the resiliency of the students and staff.  It is clear this school community has rallied together to care for every child and for each other," DeVos said in a press statement. "I want to commend the entire North Park Elementary and San Bernardino Unified District team for the nurturing environment they've created and for continuing undeterred with the important mission of educating the rising generation."
Smith, 52, was shot and killed by her estranged husband, Cedric Anderson, at about 10:30 am on the morning of April 12. Her students Nolan, 9, and Jonathan Martinez, 8, were also shot. Anderson would later turn the gun on himself and commit suicide.
Martinez died from his gunshot wounds at the hospital later that day. Brandy survived and has been released from care.
DeVos said it was "inspiring" to hear about Smith and Martinez's lives and of Brandy's recuperation.
"While life at North Park will never be exactly the same, I have no doubt the students and staff will continue to exemplify the remarkable spirits of those who were lost," DeVos said.
Marsden believes DeVos visit demonstrates her commitment to education and support for the North Park students and staff.
"Education Secretary Betsy DeVos showed our community she truly cares about the safety and wellbeing of our students," Marsden said in a prepared statement. "We're very proud to share with her North Park's mission, which has always been to focus on the academic and social needs of all students, especially now more than ever."
District Board Vice-President Abigail Medina said DeVos was "very sympathetic" and cordial with everyone who was present at North Park.
"She was able to see that there's a strong need for support in our community," said Medina. "It was also important for her to see the local voices that are there for our children."