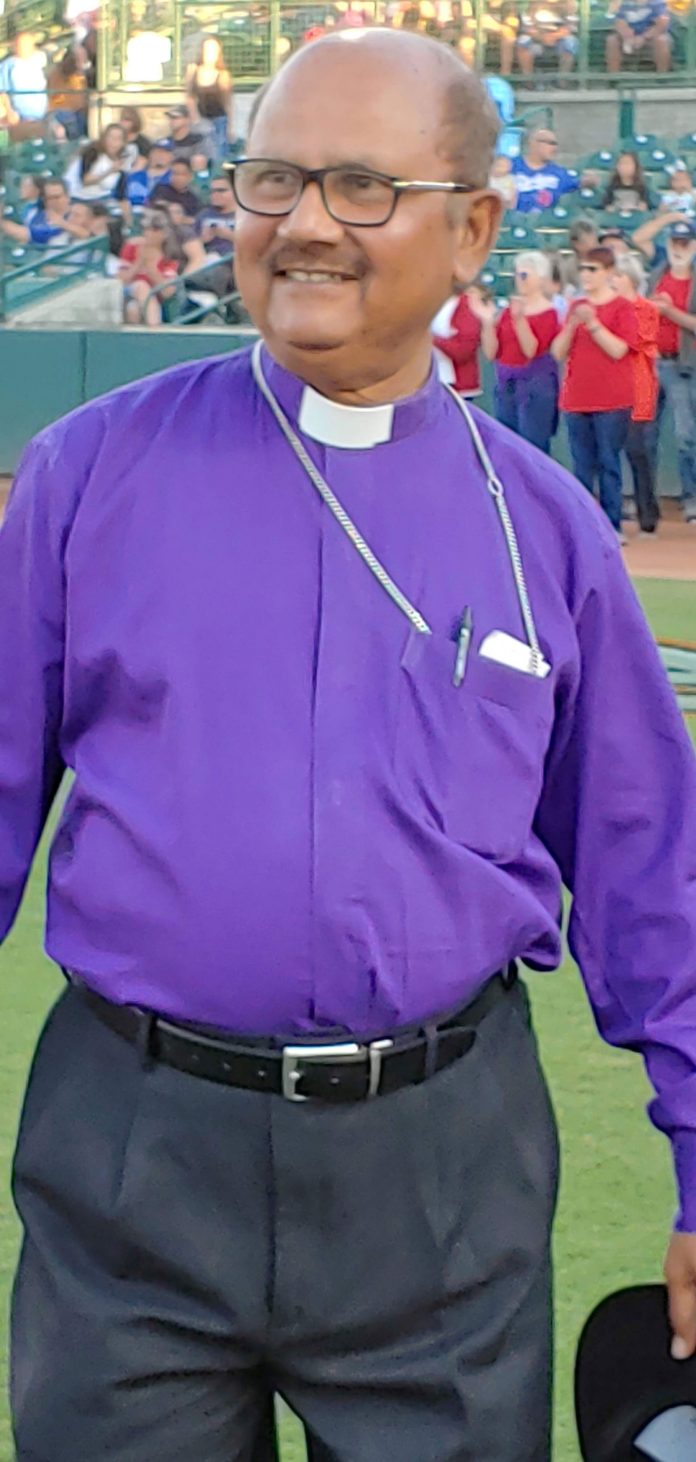 Baseball. The great American pastime. Given the honor of throwing out the first pitch at a recent 66ers game, Bishop Samuel Azariah of St. Peter's Episcopal Church in Rialto practiced for two days before taking his turn on the mound.
"It was the first time in my life that I had ever held a baseball in my hand," said Bishop Azariah, "and it was the first time I had ever seen a game."

Azariah, an ordained clergyman for the past 30 years as the Presiding Bishop for the Episcopal Church in Pakistan, has been at the Rialto location for the past two years.  Married to Khushnud, his wife and also a priest with the Episcopalian church, they have three daughters and three grandchildren.  
"My goal is to make the church in Rialto a worshipping experience," he said, "To gather people together and see that worship becomes meaningful in their everyday life. Sunday is a refueling day, but it should be used to move on and make sure each day of the week is the same."
Azariah feels that as a recent immigrant to the United States, he is in a unique situation to know the strengths and the blessings of what this country has to offer. He also knows that with those positives come challenges. "While there are many people who take things for granted here, as an outsider, it is seen as a place that gives opportunity for growth, for improving one's self, and sharing your skills."
"I feel that we all need to be very conscious of how lucky we are to be in this country that gives us a context in which to grow," Azariah shared, "I feel a tremendous sense of responsibility and constantly ask myself How do I share our blessings with others in our city? I want to help the handicapped, the seniors and see our church be strong arms for them."
Having lived in a country that was predominantly Islamic, Azariah feels the need to develop relationships with other faith communities, to "share blessings, promote harmony, respect, and truth with each other. We need to see the values that others have to offer us. With diversity, we should work with unity to compliment our diversity. Some of us look different, behave different and have different customs. So, each one needs to ask, how then, can we become as one?"
For the church in Rialto, welcoming the neighborhood and surrounding communities means meaningful programs. "We want to have activities for the homes around us, we want those close to us to participate with us in events and use our large property for the betterment of the surrounding community members," said Azariah. He is hoping that the city will allow the church to build affordable homes for the homeless, seniors and veterans on church property one day.
The Bishop would like to welcome people to come to the church at 777 North Acacia in Rialto on Saturday nights starting at sundown (around 8 p.m.) to join the church in movie nights for the family. Popcorn and snacks are served. At the end of July, a retreat will be held in the mountains near the lake for young people with a focus on 'What is the Purpose of Your Life?' The Bishop hopes that the congregation can help young people get a real focus on plans for a prosperous future. You can find St. Peter's Episcopal Church in Rialto on Facebook or call them at 909-875-5689 for further information.