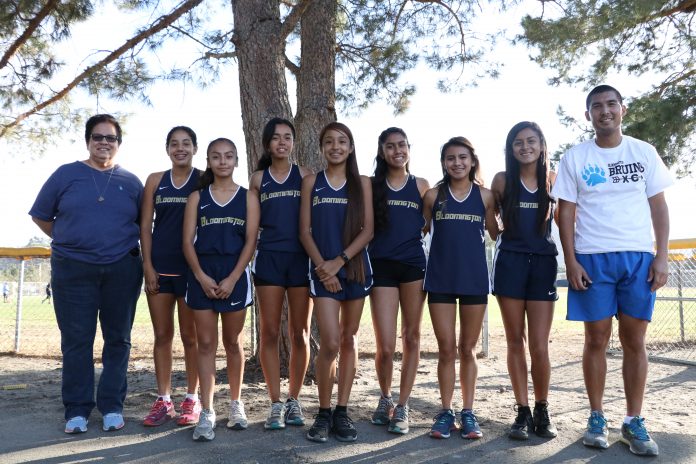 The Girls Cross Country team at Bloomington High School is familiar with the sights and sounds of CIF meets.
After finishing another season as Sunkist League champions, the Lady Bruins will be beaming with confidence when they participate in the CIF Southern Section Preliminaries in Riverside on Nov. 11.

And although they are running against Division II schools for the first time, head coach Julie Aguilera is confident the girls will turn heads this weekend.
"I'll have them all again next year," Aguilera said. "Ultimately our goal is to get to state. They can do it. We just have to keep them healthy.
During the Sunkist League Finals meet on Nov. 2, runners Britney Solis, Jesenia Lopez, Camila Rodriguez, Denise Vidrio, and Angie Esquedo finished in the top ten places. As a result of their scores, Bloomington finished with the top time and clinched the league title.
The young group, which includes only freshmen, sophomores, and juniors, say they've worked hard the entire season to find the fitness levels to compete with top schools.
"It's always an honor winning the league championship," said Solis, who serves as team captain. "But it's a challenge. We learn to push ourselves against these amazing schools. You're not just competing with one another, but for a spot to continue moving on."
Freshman Jesenia Lopez said she's learned to be "mentally tough" to keep up with the best of runners.
"You have to have the right mentality to push yourself," she said. "It's not easy running all those miles every single day."
The bond the Lady Bruins developed during the season is reminiscent of sisterhood. They joke around with each other and have created team chants for motivation.
"The fact that none of us are seniors makes it even better," said Vidrio. "Our bond isn't going away."
Aguilera, who has coached at Bloomington for over 10 years, is proud of the endurance and dedication her runners have demonstrated all year.
"They're wonderful," Aguilera said. "They are a bunch of tough kids."
---
Join our newsletter for weekly wrap-ups of our community coverage, exclusive advertising opportunities and local business specials!