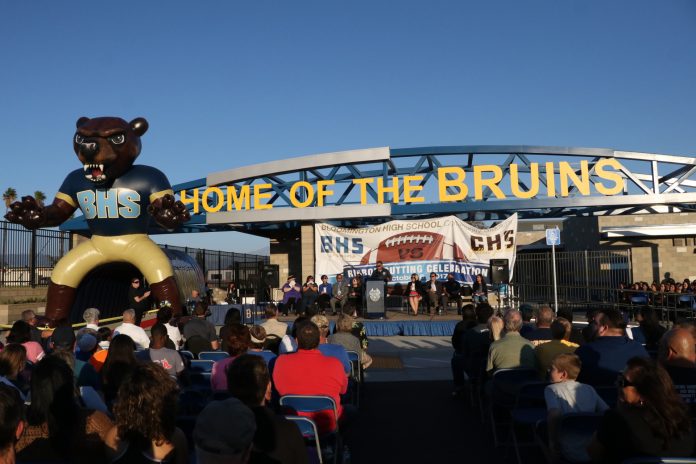 Bloomington High School celebrated the grand opening of their new and improved multipurpose stadium on Friday, Oct. 6.
The school's marching band played a rendition of the "Sons of Westwood" fight song used by the UCLA Bruins, and the school choir sang "Seize the Day" from Disney's Newsies musical for dignitaries and residents to commemorate the ground's completion.

The stadium saw upgrades to its bleachers, modernizations to its public announcements (PA) system, construction of new locker rooms and restrooms, installation of a new multipurpose complex for other sports and physical education activities.
In addition to the stadium, the school's baseball fields and cafeteria will be renovated in the coming months.
The improvements of the school's athletic facilities have "been a long time coming" for Bloomington High School, Colton Joint Unified School District officials and school administrators told parents and community members who attended the hour-long ceremony.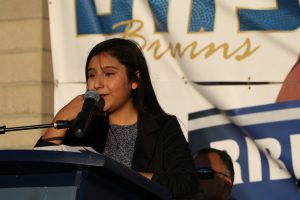 "The school has a face lift," expressed Principal Sandy Torres. "It's just a wonderful feeling."
Before moving forward with conceptual planning of stadium renovations, CJUSD officials held community meetings back in 2014 and 2015 to receive public input. The district is utilizing Measure G funds to improve the stadium and baseball fields.
CJUSD Board President Dan Flores believes students behave and react according to their surroundings. He said providing state-of-the-art facilities only helps students to perform better academically.
"We've learned in our time that when you invest in the facilities, you invest in the students," Flores said. "It's an investment in brick and mortar, but it's really an investment into their education."
The school's Associated Student Body President Daniela Lopez confirmed that the stadium's improvements have lifted the spirits of the students across campus. More students are attending football games and being morally supportive of one another, Lopez said.
"It is amazing how big of a change a brand new stadium can make on the involvement of students and culture and climate of our school," she said. "Many memories will be madeas friends and families gather together to watch our hardworking football, track, and soccer teams."
---
Join our newsletter for weekly wrap-ups of our community coverage, exclusive advertising opportunities and local business specials!