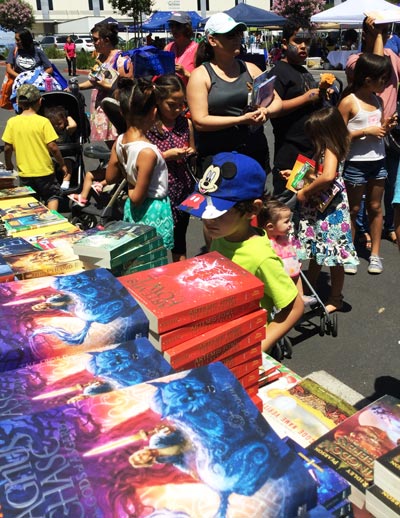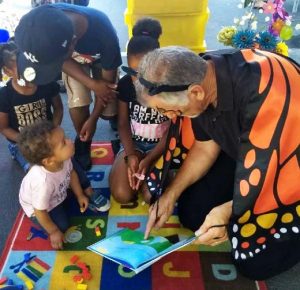 Hundreds of children all across the Inland Empire are starting their Summer Break with brand new books to enjoy!  They are having fun reading with their families and friends while keeping their academic skills sharp during the school break.
Children from San Bernardino, Rialto, Fontana, Highland, Redlands, Loma Linda and other regions of the county attended the Community Action Partnership of San Bernardino County (CAPSBC) Summer Book Fest 2018 and Resource Fair on June 9 at CAPSBC. Assemblymember Elois Gòmez-Reyes stopped by to support the event and presented a certificate of appreciation stating, "This event celebrates the joy of reading and reinforces important skills that will prepare our students for successful futures."

Thousands of new, colorful children's storybooks and activity workbooks were given to kids for pleasure reading and family learning time during the Summer break from school. The books feature fun Disney themes and characters, including "Frozen," "Star Wars" and "Snow White."
10,000 new books, enough to fill a library shelf the length of two football fields, were granted by the Molina Foundation to CAPSBC as part of their "Launch into Learning" campaign. The books, valued at $84,000, provide free educational resources to help children, parents, and caregivers create word-filled homes this summer through reading and learning together.
CAPSBC Board Chairwoman, Dr. Margaret Hill stated, "With this wonderful donation from Molina Foundation, we were able to provide books to children in families for whom a book purchase would otherwise not be financially feasible.  These books go a long way in helping children in our disadvantaged communities to learn and read with their families."
The Molina Foundation, based in Southern California, believes that book distributions can be an effective way to reinforce storytelling at home and create opportunities to build home libraries. "We care deeply about helping children in their academic and personal achievement," said Foundation President and Founder Dr. Martha Bernadett about the Launch into Learning initiative. "We know that giving out books and learning materials can have a wonderfully positive impact on the kids and their families."
At the event, children were able to choose free age appropriate books and parents received a free Thermos travel mug. A resource fair with over 30 agencies were on site to give goods, services and information to help families. Kids were entertained by reading butterflies, got their faces painted, did crafts with Home Depot, and participated in the Super Raffle of prizes.  There were lots of smiles and fun which can be seen on both CAPSBC and Molina Foundation Facebook pages at www.facebook.com/capsbc and www.facebook.com/MolinaFoundation.
The event was designed to fight the "Summer Slide" when children are out of school for summer break, and are not as academically active.  According to Oxford Learning, students lose 2 months of reading skills over the summer and 2-3 hours of reading per week is needed to prevent any learning loss. CAPSBC wants parents to have the resources to help their kids achieve success.
Research shows that there continues to be significant academic achievement differences between children in poverty and their more affluent peers. In San Bernardino County, 26% of children under 18 years of age live in poverty.