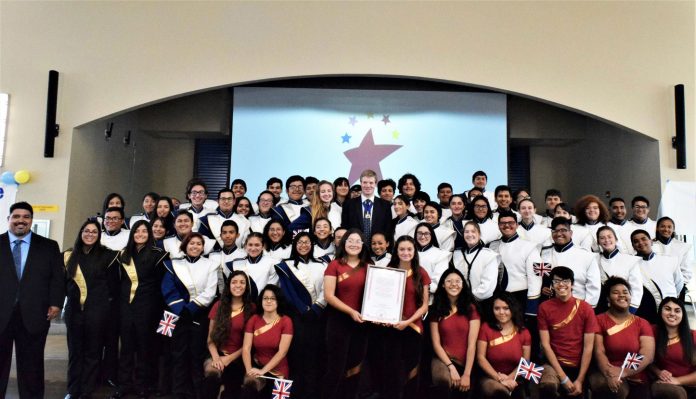 Bloomington High School hosted a very special guest from across the pond on Thursday, Oct. 25.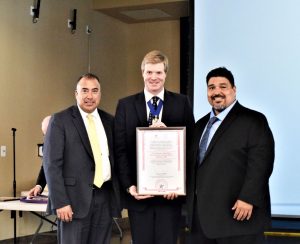 Lord Mayor Duncan Sandys from Westminster (London), England paid a visit to the school to officially invite the Bloomington High School band to participate in the 2020 London New Year's Day Parade! Invitations also have been extended to members of the Colton High and Grand Terrace High bands who would like to join them, BHS Band Director Victor Torres said.

Thursday's program included a performance by the Bloomington High School band, and a formal invitation to the parade from Lord Mayor Sandys, who also is the great-grandson of famed British Prime Minister Winston Churchill.
London Parade founder Bob Bone, Executive Director of Destination Events (the organization that coordinates the parade); and Gary Locke, United States Liaison with Destination Events and Associate Professor Emeritus at Riverside City College, also spoke to band members. Students sat mesmerized as the special guests described the excitement of the world's largest parade winding past well-known international landmarks in front of an audience of nearly 670,000 spectators. Millions more watch the parade on television.
Mr. Bone noted that the most popular of the more than 8,000 parade entertainers are the marching bands from America; something England does not have.
The visitors also brought some special gifts: A formal, framed invitation; pins; cuff links; a commemorative plate from Buckingham Palace; miniature British flags (which Mr. Sandys happily autographed for students) and a special umbrella meant to ensure that it will not rain on the parade.
Bloomington High earned a spot in the parade after the band submitted a video. Organizers also research bands online. In addition, BHS Band Director Torres has maintained a relationship with the London parade organizers since he took a band from another district to London. This marks the first time that Colton Joint Unified School District bands have been invited to participate in the parade.
Band members will spend the next year fundraising in order to pay their way to the parade, noted Band Director Torres.
"Attending the New Year's Day Parade in London is certainly going to be a life-changing experience for the BHS Band members and our sister schools, Colton and Grand Terrace. Our kids have worked extremely hard to build themselves up musically, academically, and socially and are ready to take this challenge head on," Torres said. "Each performer is more than deserving of this honor to represent CJUSD, California, and, most importantly, the U.S.A."
"This is a tremendous opportunity for our students to participate in such a wonderful event," added Bloomington High School Principal Sandy Torres, "The experience of going to London, England will be something they will never forget. We are thankful and honored to have our band perform in the 2020 London New Year's Day Parade."
Mr. Victor Torres, meanwhile, added that he is grateful to the community for their support:
"I would like to thank our wonderful BHS administration, faculty and staff for their support and excitement. I would also like to thank our district administration and school board members for their overwhelming support of music and the arts in our schools. The best is yet to come!"