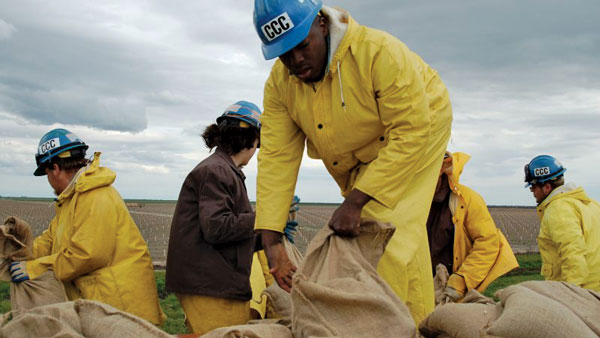 As California firefighters continue to deal with the Thomas Fire, the California Conservation Corps is lending their full support by sending members to aid them.
About five California Conservation Corps crews from the Inland Empire are helping multiple fire agencies fight off the wild flames in Ventura by assisting with camp support. That means helping construct fire lines, helping prepare meals, and setting up a tool station for firefighters, explained Inland Empire Director Rhody Soria.

"We've been fairly busy," continued Soria. "It's a continuous thing we respond to."
The CCC has become accustomed to helping aid public safety personnel during natural disasters. Last month several corps members based out of the San Bernardino office helped clean up debris and rebuild neighborhoods in Houston that were devastated by Hurricane Harvey.
"They just got back two weeks ago, after spending close to a month helping clean up communities in need," Soria said. "We've even sent crews to St. Thomas and Puerto Rico.
The California Conservation Corps gives at-risk youth and young adults the opportunity to receive employment training and educational support. Since the program's founding in 1976, about 120,000 young adults have participated in the program. Many leave the corps to get jobs as firefighters, entry-level park aides and highway maintenance employees. Others continue to pursue higher education or become park rangers and entrepreneurs.
According to the CCC website, corp members earn minimum wage and receive medical benefits.
Many of the youth who join the CCC become "transformed" by the experience of helping conserve and maintain the outdoors. Conservationist Angel Lizaola is among the hundreds of youth the program has helped change into a better person.
"The program provided me with good work ethics and life skills," said Lizaola, who serves in a supervisor role with the Inland Empire station. "I think we're providing youth with a good platform to start their career. We have a little bit of everything for everybody."
For those who are looking to join the California Conservation Corps, visit their website at www.ccc.ca.gov or call (909)253-4714.
---
Join our newsletter for weekly wrap-ups of our community coverage, exclusive advertising opportunities and local business specials!