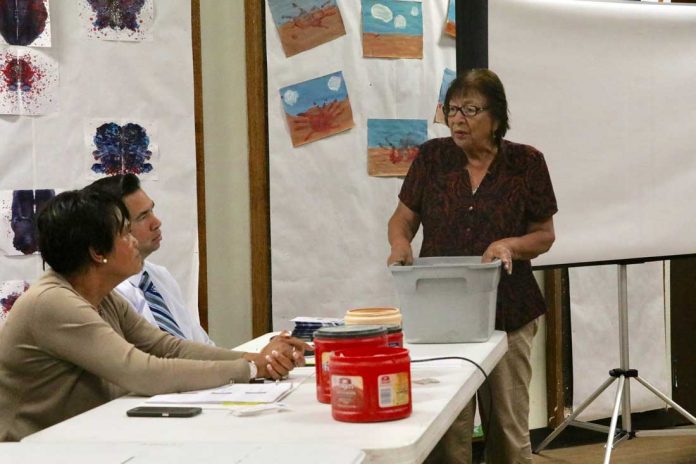 South Colton residents would like to invite you to their house. 
For a bowl of dirt. 

Such was the sentiment Saturday at the Luque Center where frustrated citizens confronted representatives of the South Coast Air Quality Management District over environmental concerns. 
Many residents expressed frustration with dust particles stemming from the nearby CalPortland Cement Company. They say the particles contribute to breathing complications and quality of life issues.
"I invite you to eat a plate of dust for breakfast," said resident Adolfo Santiago. "I'm always finding dust in my meals."
The meeting with the SCAQMD was organized by Councilman Dr. Luis Gonzalez and Mayor Richard Delarosa. Both have committed to walking the streets along with SCAQMD officials to reduce dust output and address resident complaints.
"We'll walk on streets and knock on doors and get information to residents," Delarosa said. "This is an issue [the city] has to prioritize."
City Council members directed staff last month to explore annexation options for the Cal Portland Cement property. Gonzalez believes annexing CalPortland would give city officials better local control.
SCAQMD officials explained to residents that CalPortland is required to apply water to the cement dampen the soil to prevent it from flying over into residential areas. SCAQMD Compliance and Enforcement Assistant Deputy Executive Officer Marian Coleman confirmed that inspectors are currently conducting surveillance in the area and have identified at least one violation.
"We're trying to be proactive and go out there before you call us," Coleman said. "If we identify a problem, we will take enforcement action."
Lisha Smith, a special assistant to San Bernardino Fifth District Supervisor Josie Gonzales, said they are monitoring the situation and working along with both SCAQMD and city officials to bring resolutions.
"I'm asking you to take them at their word," Smith told the twenty or so residents in attendance.
Jay Grady, Director of Environmental Affairs for the cement plant company, said they are appealing the SCAQMD's notice of violation.
"We have not spoken to the [AQMD] inspector yet," said Grady. "We really need to have further conversations and understand their concerns."
Grady also said company representatives were not invited to the meeting. Nonetheless he confirmed they have gone "above and beyond" to address community concerns, such as implementing watering measures and dust suppressants.
 "We've taken steps to apply additional measures," Grady said. "I think we've resolved the complaints."
Teresa Vera, a cancer survivor and asthma patient, expressed disbelief of the "inaction" of air quality officials.
"How many more people will you allow to die simply because you're waiting for a phone call," she said fighting back tears. "Let's be honest."
---
Join our newsletter for weekly wrap-ups of our community coverage, exclusive advertising opportunities and local business specials!