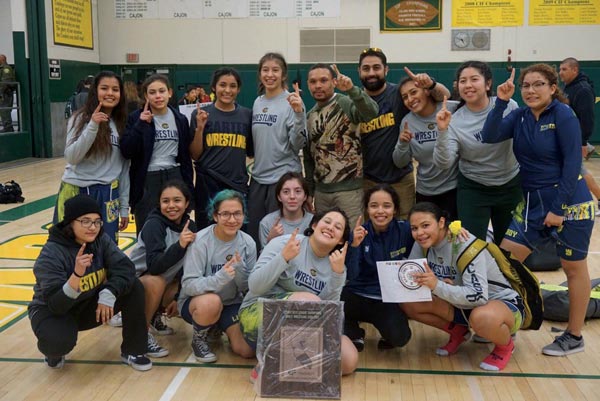 Student athletes at Carter High School have plenty to celebrate as they shared various championships and recognitions.
A few highlights from Carter's winning streak in sports include:

• Congratulations to Senior, Michelle Camacho, for winning the CIF Eastern Division Individual Championships (143) Feb. 4 at Hillcrest High School. Michelle has been nearly perfect this season, suffering only one loss that happened to be in a championship match. Michelle didn't need the extra incentive as she has the lasting memory of state last year, but since that loss, Michelle has been on a mission to not only go back to state but win a state title for herself, family, Carter Girls Wrestling, and her school. Michelle is now a two-time CIF Regional Champion!
• Congratulations to Junior, Anna Castro, for winning the CIF Eastern Individual Championships (160). Anna is now a three-time CIF Regional Champion! Anna has had a great mentor to look up to in Michelle. Both young ladies practice together and push each other every day. They are just like sisters and have built an unbreakable bond. Let's also not forget about Senior, Jocelyn Lopez, who finished 5th at the CIF Eastern Division Individual Championships and wrestled over the weekend of Feb. 11 at the CIF Master's Tournament.
• Congratulations to the Carter Boys Soccer team as they captured the Rialto Cup Championship by defeating both Rialto and Eisenhower HS this year. A tradition has begun between the three school soccer teams to determine a "City Champion". Carter won its first match-up against Rialto High School by 3-1, led by Johnny DeRueda and his two goals. On Thursday, December 12, the Carter Boys Team took on Eisenhower and defeated the Eagles 2-1 on a soggy night. Coach Navarro is very excited with the boys' progress this year.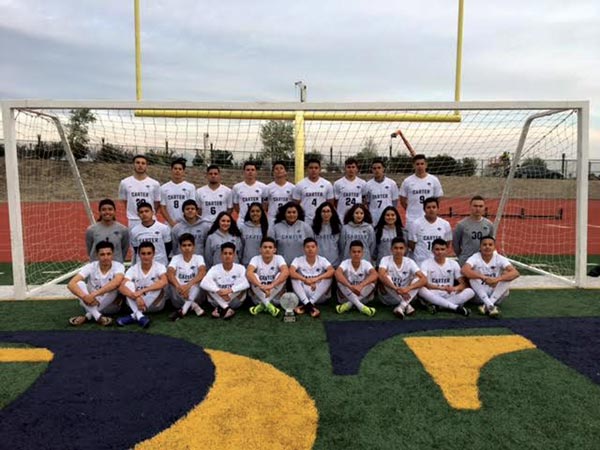 • Congratulations to Carter's Girls Wrestling Team as they won the CBL Title! This was an extra special win as last year the team came up just short losing the title to AB Miller. Coach Chavez and staff were on a mission this year to not only win the CBL title but win it convincingly! Coach Chavez is extremely proud of all the young ladies on this great accomplishment but now their focus is on CIF and making a run to state. Carter has two wrestlers who are favored to make a strong run to Visalia for the CIF State competition; Michelle Camacho and Anna Castro.
---
Below is how the girl's Wrestling Team finished at CBL:
1st place
Michelle Camacho
Samantha Lucero
Anna Castro
Jocelyn Lopez
2nd place
Teresa Serrano
Brittany Ramirez
Helen Villatoro
Catherine Canizales
Oyuky Barragan
Camila Aguirre
3rd place
Sara Alvarado
Racquel Chacha
Daisy Arreola
4th place
Leslie Castaneda