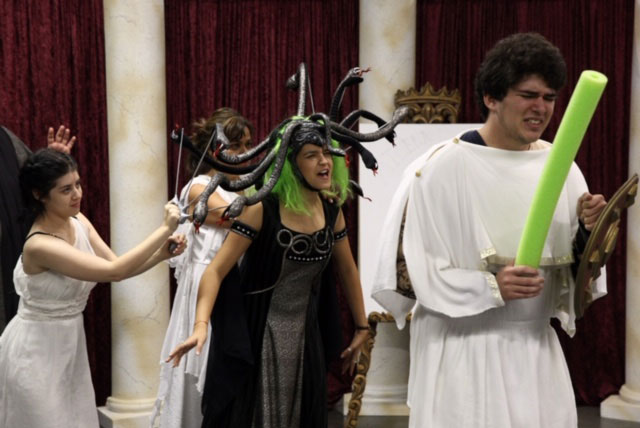 Chaffey College theater students will bring a production to the Inland Empire in which Zeus doubles as a juggler, Aphrodite is a balancing ballerina and Hades swallows swords.
It's called "Circus Olympus," a play that features "Greek geeks" who portray circus performers and characters in Greek mythology. They'll perform on a stage set that is surrounded by Greek columns and burgundy curtains.

"It's perfect for young audiences and families, but it's also elevated because it's a modern telling of myths with comedic flair," said Chaffey College Professor of Theatre Christa El-Said.
The event opens Nov. 18 at the Victoria Gardens Cultural Center Studio Theatre, followed by performances at Chaffey College's Chino and Rancho Cucamonga campuses. Chaffey will also perform at several middle schools in the community.
El-Said considers the community engagement element important because of the impact it can have on young people in the audience. El-Said decided to pursue theater after seeing a college troupe perform "Cinderella" at her school when she was in the first grade.
"It's an opportunity for our local students to make a connection with us and hopefully come to Chaffey College in the future," El-Said said.
Five narrators will lead the audience through the tales of Persephone and the Underworld, Perseus and Medusa and Athena and Arachne. Live musicians will underscore the production with drums, synthesizers and more.