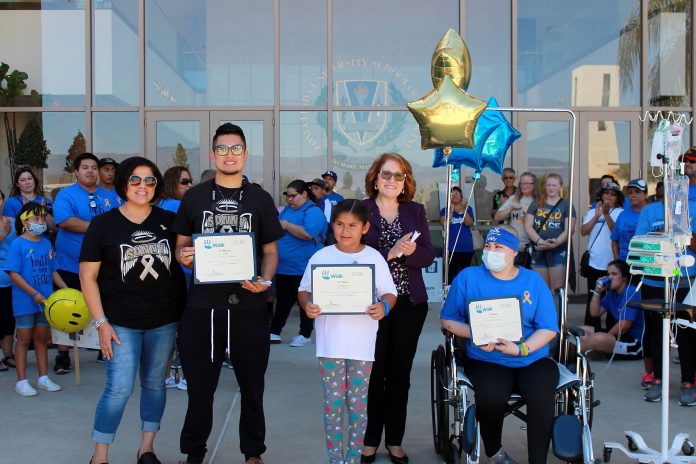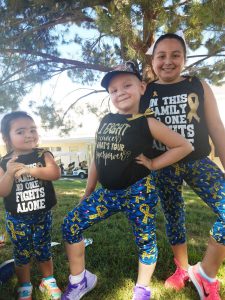 Over 1,000 walkers from across the Inland Empire rallied together for childhood cancer at Childhood Cancer Foundation of Southern California's (CCFSC) annual Kids Walk on Sunday, September 9.
"Thank you all so much for coming. Today we raised $28,983, all of this money goes directly to families and children affected by cancer," said Stephanie Avila, CCFSC's executive director.

The organization's goal was to raise $20,000, as stated on its website, but with the help from sponsors and the community, it was able to pull in an additional $8,983 to help children and families affected by cancer.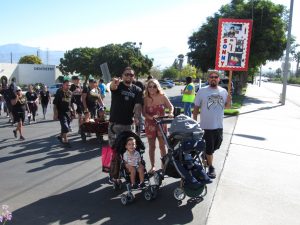 One of those children affected by cancer, in which CCFSC assists, is current patient Priscilla Lizarraga, who was also an honoree at this year's Kids Walk and it just so happened to be her 17th birthday the day of the walk.
After the 1.5 mile walk from CCFSC (which is in Loma Linda), to Loma Linda University Children's Hospital, Lizarraga was wheeled out of the hospital on a wheel chair by her nurse into the Loma Linda University Campus Lawn where she met her closest family and friends, who were cheering her on – before singing "Happy Birthday."
At the Kids Walk 'After Party' an emotional and brave Lizarraga got on the microphone to say a few words, "I would like to take a second to speak on behalf of all of us kids in this hospital. We are all fighting so hard and we are staying together. Childhood Cancer Foundation of Southern California has helped my family out so much; they do so much for us kids with cancer. Thank you for everything Stephanie and Anjelica. Thank you all for doing this walk."
At the event, 47th District Assembly Member Eloise Gomez Reyes recognized Lizarraga for her bravery in her fight against cancer; Julieta Ruiz for very victory against cancer; and Reyes honored the memory and life of Aaron "Sonny" Sandoval, who's recognition was accepted on behalf of his mother Denise Sandoval and brother Manny Boy Sandoval.
"Thank you for participating in the 19th Annual Kids Walk. Your willingness to continue to raise awareness for childhood cancer is to be commended," said Reyes, as she handed each honoree their California Legislature Certificate of recognition.
September is Childhood Cancer Awareness Month. The gold ribbon is the internationally recognized symbol for childhood cancer awareness.
To keep updated on upcoming events, visit ccfsocal.org.