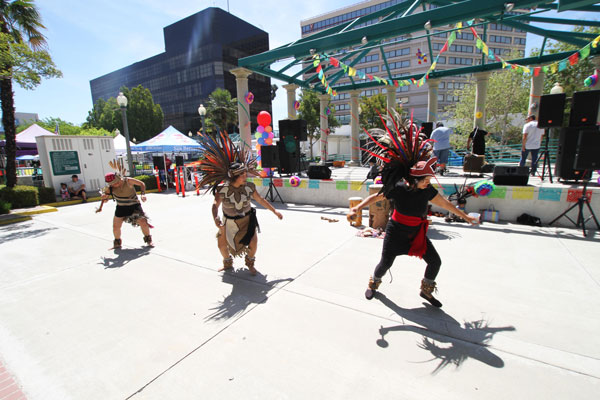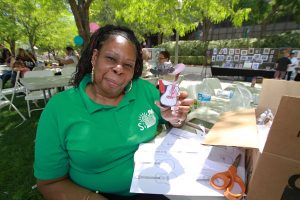 On Saturday, May 5th, the City of San Bernardino Parks and Recreation Department sponsored a Cinco de Mayo Community Celebration at the Court Street Square in downtown.  The day was filled with entertainment from several bands and Ballet Folklorico dance groups.  There were art exhibits, arts and crafts for the kids, a car show, many food vendors and merchants.
Mayor Carey Davis and Councilmember Virginia Marquez attended the event and mingled with attendants.  The Mexican Consulate had a display of their 22ndAnnual Children's Drawing Contest, "Este es mi Mexico", and was taking on additional contestants for their event.

The "San Bernardino Life Car Club" said that they helped organize the car show.  Joe Lozano a member of the car club said, "We are a bunch of Mexicans that love our community."  That statement seemed to be the theme for many who attended the Cinco de Mayo celebration.  When asked, many of the attendees knew the technical reasons for the holiday, but their focus was more on the celebration, camaraderie, culture, heritage, food, and entertainment at the venue.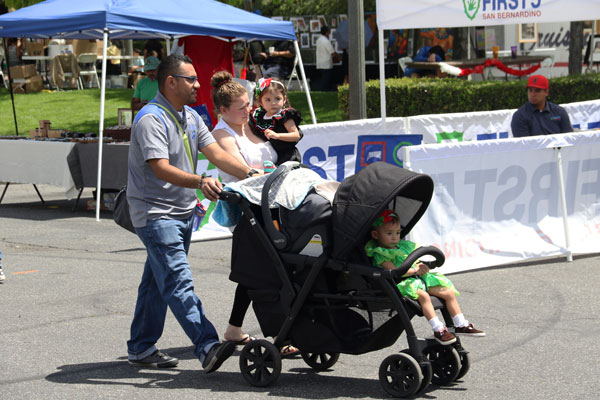 "Many have mistaken Cinco de Mayo for Mexican Independence Day," said Arlahe Galicia, Promoter of Community Affairs for the San Bernardino Mexican Consulate. "However, Cinco de Mayo was just one battle that led to the actual Mexican Independence Day which is celebrated on September 15thof each year."
Victor Pina and his wife Lorrain brought their three young children Sofia, Amelia, and Aurora to the celebration. They looked up the event on the Internet and discovered it was near their home. "It was a good time to take the kids out of the house," said Victor.
Mariachi Corona De Angeles is a Mariachi youth band located in San Bernardino that rehearses at the Casa de Antonio Church. After their performance of several classic Mariachi favorites while strolling through the event, a gentleman asked if they would play a song so that he could record it on his phone and send it to his brother. The band did so without hesitation and also serenaded two police officers assigned to patrol the event.
K.T. Azteca was established 5 years ago in San Bernardino and was one of the first dance groups to entertain the crowd.  Youth groups also performed during the event – St. John's Angels headed by Gary Ferrer, and Folklorico Cultural de San Bernardino.
On the west end of San Bernardino at "La Plaza Park," the Suavesitos Car Club organized their own car show and festivities for that local community.
Even though Cinco de Mayo is not a national holiday in Mexico and is only really celebrated in the town of Puebla where the Mexican army claimed victory over the French army on May 5, 1862, in the United States Cinco de Mayo has taken on a more significant meaning.  Cinco de Mayo is more of a celebration of the Mexican culture and heritage.  It has become a celebration where people of various backgrounds join in the festivities with parties, Mexican food, Mexican music and dancing!  Celebrity Host Tim Conway Jr. on KFI AM 640 radio put it into a different perspective. Loosely paraphrasing his statement, Conway said that "Cinco de Mayo in the USA is much like how we celebrate Ireland's St. Patrick's Day; people just celebrate and have a good time".