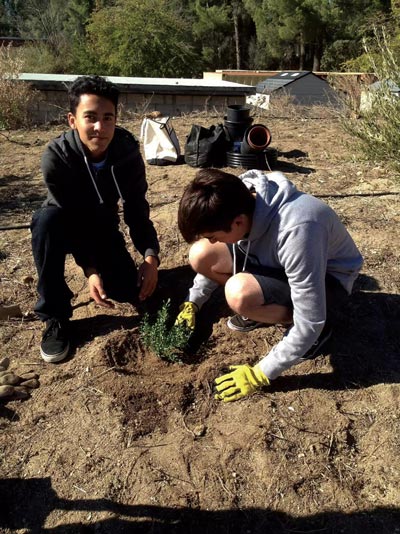 Students from Citrus Valley High School were digging deep into conservation work during visits to Highland Springs Resort, an organic lavender farm in Cherry Valley.
To help control pests on the lavender farm, which operates under a no-kill policy banning the use of pesticides or traps to deter pests, students built and installed several owl boxes and raptor perches in November to attract birds to the area to hunt ground squirrels along with other rodents on the resort.

In addition to building the boxes and perches, students also planted a native plant hedgerow to attract pollinators and provide natural habitat.
Nearly two months later, students returned to the farm for a native plant seeding of an area burned during the 2016 Bogart Fire, according to an Inland Empire Resource Conservation District news release, the group spearheading the local conservation work. The IERCD is a special district tasked with preserving and managing natural resources within San Bernardino County.
As part of the January SLEWS project, students hand-seeded one acre while learning about native plants and fire ecology.
The educational trips are part of the IERCD's SLEWS program — Student and Landowner Education and Watershed Stewardship — developed by the Center for Land-Based Learning to provide habitat restoration activities for landowners and offer students hands-on resource conservation experience. The program is in its second year at the IERCD and is the only organization in Southern California offering the conservation-focused program.