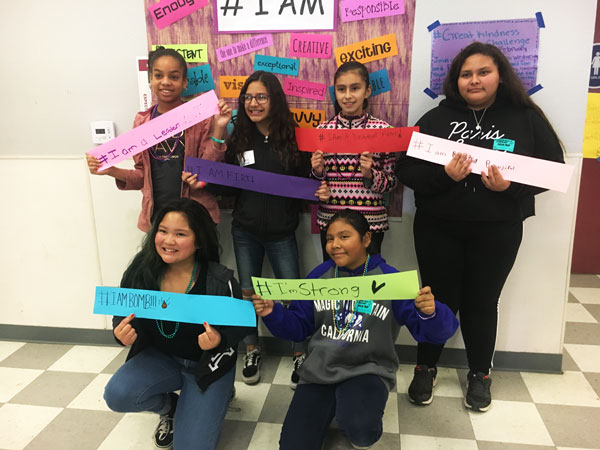 On some bright colored construction paper, dozens of sixth grade girls attending Colton Joint Unified School District schools wrote down positive labels that describe who they are.
#IAmCreative, #IAmMe, #IAmGorgeous.

The latest Empowerment Conference organized by the district at Ruth O. Harris Middle School in Bloomington Monday helped prepare elementary school students for middle school, while also helping to boost their self esteem.
Besides writing positive affirmations on paper, the girls participated in several exercises that deal with the themes of bullying. Guest speaker Tamika Michelle led the girls in two exercises–one involving turning negative labels into positive ones.
"Labels are always being put on people," said Michelle. "Here's the thing about labels. You can tear them off. It's up to you to keep that label or take it off. People will talk about you just because. You have to decide what you're going to do with it."
The focus of the empowerment conferences, held for both girls and boys, is to help the students embrace themselves and the differences in others, explained counselor Nina Torres.
Colton Joint has four more conferences planned for the next month, Torres confirmed. Young Visionaries Chief Executive Officer and Founder Terrance Stone will be speaking to young sixth grade boys at Terrace Hills Middle School on March 1 and Tamara Ellison will be addressing girls at Colton Middle School on March 6.
When asked collectively what they would be looking forward to in middle school, many said taking elective courses and participating in sports. Other girls said attending after school dances and meeting new people.
Regardless of what they decide to do, Michelle said they always remember to look in the mirror and say: "I'm good enough, smart enough, and I by golly I love myself."