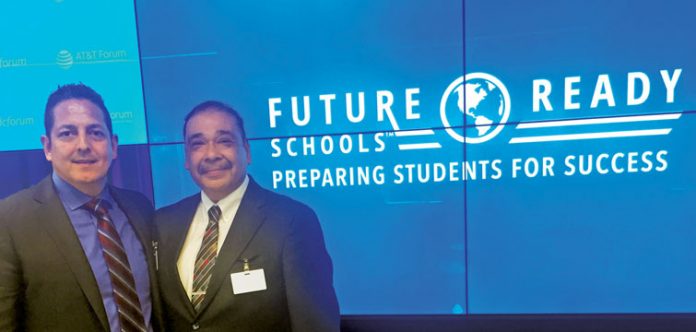 Colton Joint Unified School District leaders recently traveled to Washington DC to join a group of 12 school districts from across the country chosen to participate in an innovative program designed to help improve learning for students through digital learning strategies.
Alliance for Excellent Education (All4Ed) launched the new effort with the support of a $300,000 grant from AT&T. The pilot program includes districts enrolling high percentages of historically underserved students and will provide school district leaders with resources, leadership strategies, and other support to better plan and implement a digital learning strategy that improves learning outcomes for all students. CJUSD's delegation included Superintendent Jerry Almendarez and Board President Frank Ibarra.

"Leaders from the twelve school districts selected for the Future Ready Schools (FRS) Digital Equity Program have demonstrated their commitment to modernize their schools, support their teachers, and identify modern learning opportunities that engage their students and improve learning outcomes," said Bob Wise, president of the Alliance for Excellent Education and former governor of West Virginia. "This will help school district leaders identify their needs and craft a comprehensive plan that incorporates a research-based digital strategy and results in sound purchasing decisions. Such an approach ensures a smoother implementation and greater likelihood of success."
The twelve school districts selected are in some of America's smallest towns to its largest cities and represent rural, suburban, and urban districts. Districts range in size from Newport School District in Pennsylvania, which serves about 1,400 students, to Prince George's County Public Schools in Maryland, which serves more than 130,000 students. Districts selected for the FRS Digital Equity Program include the following:
Colton Joint Unified School District (Colton, California)

Florence Township School District (Burlington County, New Jersey)

Harrison School District Two (Colorado Springs, Colorado)

Highline School District (Burien, Washington)

Newburgh Enlarged City School District (Newburgh, New York)

Newport School District (Newport, Arkansas)

Oceanside Unified School District (San Diego, California)

Pontotoc County School District (Pontotoc, Mississippi)

Prince George's County Public Schools (Upper Marlboro, Maryland)

Rowland Unified School District (Rowland Heights, California)

Sioux City Community School District (Sioux City, Iowa)

Yucaipa-Calimesa Joint Unified School District (Yucaipa, California)
In addition to the daylong retreat and subsequent face-to-face and virtual workshops and meetings, leaders representing these school districts will form a strong network that shares resources, captures best practices, and identifies additional support targeted to their specific needs. FRS will also assist these districts in completing customized, collaborative, and actionable implementation plans using the FRS interactive planning dashboard.
"Technology is making it easier for students—regardless of age, gender, income, or geography—to learn anytime, anywhere," said Nicole Anderson, AT&T ‎assistant vice president of corporate social responsibility. "Through our collaboration with the Future Ready Schools initiative, we've seen firsthand the powerful role technology can play in personalizing learning and improving student outcomes. The new Digital Equity Program will bring that power to even more underserved students and help us identify and scale best practices across the country."