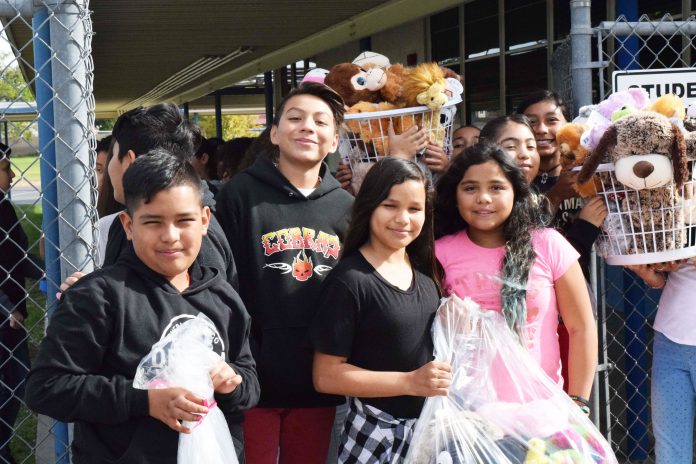 Student leaders at Ruth Grimes Elementary School have spent months spearheading a donation drive to collect stuffed animals for children and seniors in need and are giving more than 200 of the toys to the Rialto Police Department, the non-profit organization Childhelp and a senior housing complex.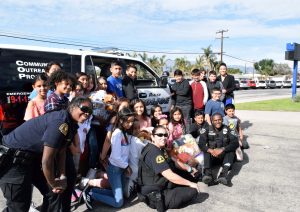 Officer Dwuan Rice from The Rialto Police Department was on hand at the school Friday, November 16 to personally accept donations. He noted that the toys will be shared with children going through traumatic or stressful situations. Officers will also keep the stuffed animals in their patrol units during the holidays to share with families in need, Officer Rice said. He added that he was proud to see students helping their neighbors.

"I think it's awesome," he said. "These kids are already making a difference in their community. Our future is solid."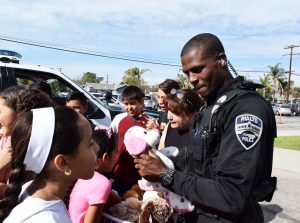 "I'm happy to help other people," stated 11-year-old Sophia Castillo. "People don't realize something as little as a teddy bear can make a big difference in a kid's life."
The teddy bear drive grew from teacher Ilene Mino's desire to teach students about leadership as a Project Based Learning project designed to help students explore real world problems and challenges to acquire deeper knowledge.
The students began discussing the question, "How can we make a difference in our community?" last year when they were fifth graders. Mino was also their teacher last year and has continued with them as they graduated to the 6th grade.
"I truly thought the program would stay within my four walls," Mino said. "However, the students took it outside and into our school community."
The students came up with the idea to collect teddy bears for children in stressful situations who might need a comforting friend. The students marketed their idea school-wide and made posters and a commercial to advertise their efforts.
"The project took on a life of its own," Mino stated.
Students set a goal to collect 100 bears, but soon had received more than twice that number in donations.
Seeing the donations roll in "felt awesome," stated 11-year old Ramses Muñoz. "We know we're making an awesome change."
"I'm amazed," Mino said. "I'm so proud and inspired by them. I was excited to do this leadership program, but I had no idea they would take it to another level."
The student leaders have come up with several other ways to lead by example as well. They collected more than 50 books to stock the classroom libraries of two new Grimes Elementary School teachers. And, they have spent this month writing thank you notes to firefighters and police officers, as well as their former teachers. The students are currently discussing possible future projects.
"We are extremely proud of our 6th grade leaders," noted Grimes Elementary School Principal Dr. Wendy Moore. "This project has helped them to develop a heightened level of compassion and civic responsibility that transcends the classroom walls. We look forward to seeing what other endeavors they will take on this year!"