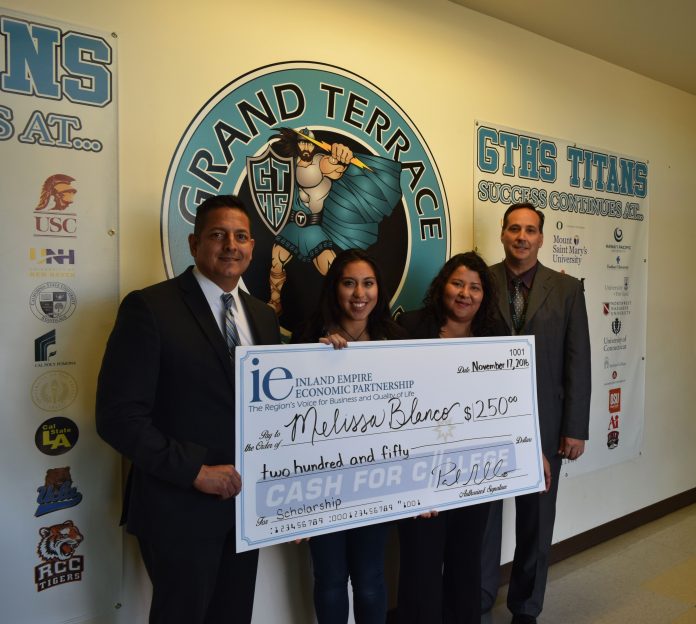 Colton Joint Unified School District (CJUSD) seniors Ramiro Rivera and Melissa Blanco are on their way to making their future plans a reality with help from Inland Empire Economic Partnership's (IEEP) Cash for College Program scholarships. The scholarships were awarded to the students as part of the inaugural CJUSD College and Career Fair, held Oct. 4.
Ramiro Rivera attends Colton High School and Melissa Blanco attends Grand Terrace High School. Both will be awarded $250 each in scholarship funds.

"We are grateful to IEEP/Cash for College for providing these scholarships to our students as part of our first district-wide College and Career Fair," stated CJUSD Superintendent Jerry Almendarez. "By investing time and resources in our students, IEEP stands out as an integral, engaged partner in our collective efforts to build a better future for our community."
"Helping Inland Empire students attend college is an investment into the region's bright future," said IEEP President and Chief Executive Officer Paul Granillo. "We are honored to have the opportunity to help make college education and career dreams a reality for these students. Thank you to Cardenas Markets Scholarship Foundation for their support and dedication to supporting our future leaders."
With support from the Cardenas Markets Scholarship Foundation, IEEP has provided $12,000 in scholarships to students who have participated in Cash for College Workshops in the Inland Empire region.
Ramiro plans to attend community college after graduation and said the scholarship will be a big help.
"Winning the scholarship is a blessing," he said. "I want to thank Cash for College for selecting me out of all of the students at Colton High School."
Melissa plans to use her scholarship to pursue a degree in music (flute performance). She then hopes to earn her teaching credential, and possibly eventually become college professor or a world-famous musician.
"This is such an incredible honor and I'm ecstatic to receive this scholarship and continue on with my future," she said.
The students were chosen for the scholarships after visiting the Cash for College booth at the inaugural CJUSD College and Career Fair, held Oct. 4 at the Gonzales Community Center in Colton. The event was co-hosted by the City of Colton and Colton Joint Unified School District.
—Jacqueline Paul, CJUSD Media Specialist