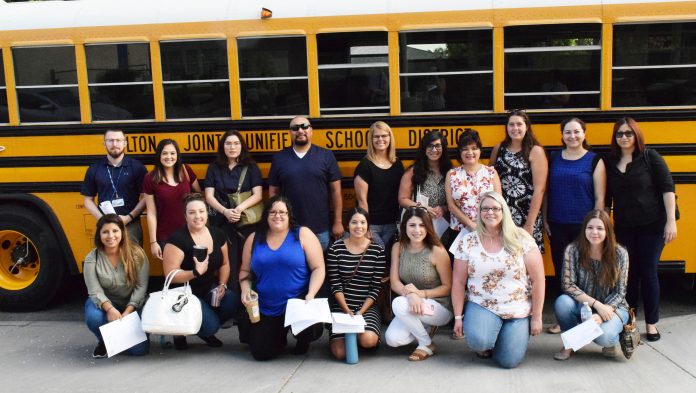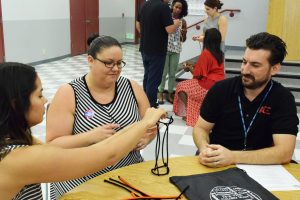 The Colton Joint Unified School District's first New Employee On-Boarding program took place July 30 and 31. This new program introduced new employees to district staff, informed them about important aspects about their jobs and the district, and provided an opportunity for them to build relationships with their peers.
The On-Boarding program is one of several employee trainings that take place prior to the beginning of the school year. Participants included 40 certificated (teaching) staff and 10 classified (non-teaching) staff, and one classified manager. The program included fun events designed to help staff to get to know one another as well as breakout sessions designed to acquaint new employees with the different departments in our district.

Teachers participated in the second day of trainings specific to classroom issues and the array of instructional technology tools available to them. Teachers also took school bus tours of the district's school sites.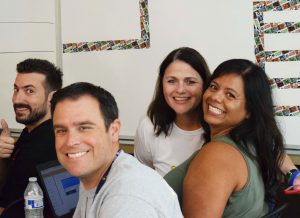 "Ultimately, one of the key performance indicators for Human Resources is the recruitment of certificated and classified employees," noted CJUSD Human Resources Director Ernesto Calles. "On-Boarding is an opportunity to introduce those new employees to all of the outstanding resources and support within our district. By inviting new employees in this welcoming setting, surrounding them with their peers, and introducing them to our leadership team, including our Board, we at CJUSD can begin to foster a work environment that is collaborative, respectful and supportive. Our new employees can begin to understand why Colton (Joint Unified School District) is family and a special place to work."
The new on-boarding program is just one of several trainings offered to staff prior to the school year.
The District also held a Classified Employee Boot Camp on July 25, a Management Team symposium on July 26 and CampEd for certificated staff on Thursday, Aug. 2.
"Our dedicated and talented staff members are our district's greatest asset," stated Superintendent Jerry Almendarez. "We know that everyone – from our classified staff to our classroom teachers and administrators — plays a critical role in the success of our students. We are proud to offer multiple opportunities to engage, inform and inspire our team members so that they can give their best to our students every day."