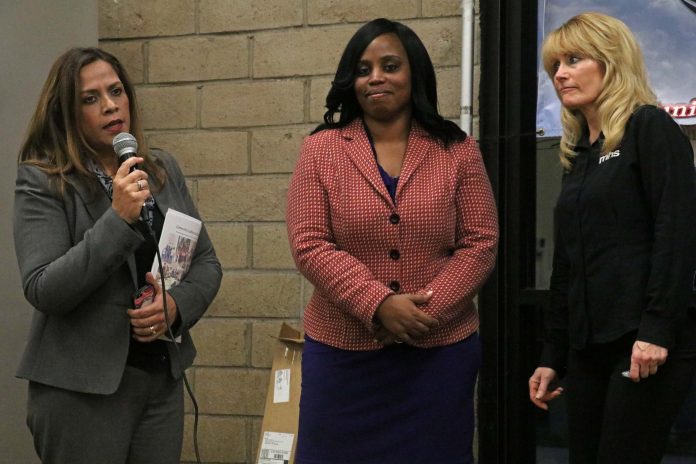 The Community Coalition for Change held a ceremony last Thursday at the Hutton Community Center in Colton to recognize their achievements in curbing underage drinking and drug use.
Leaders from coalitions based in the cities of Bloomington, Colton, Rialto, and San Bernardino were present to highlight their commitment to helping young people stay away from alcohol, marijuana, narcotics, and synthetic drugs.

"We're trying to send the message to everyone that it is our responsibility to keep our youth safe," said Central Valley Prevention Program specialist Mirza Martinez. "Let's continue to work together to reduce underage drinking and drug use."
Campaigns such as Under 21 Think-O-No-Drink-O, Love Thy Neighbor, Safe and Sober Holiday, and Super Hero Me have helped the coalition attract more people, Martinez said.
"We want you to know that in our prevention programs there is always room for one more," she said.
In recent years the Community Coalitions have addressed issues with underaged drinking and synthetic drug use–helping persuade several Inland cities to adopt ordinances that discourages the sell of such substances to minors.
According to drivinglaws.org, some 2,000 underage drivers are involved in alcohol-related accidents each year in the U.S. Many of the fatalities resulted in drivers who participated in "binge" drinking and often their blood alcohol levels were found to be five times above the legally-allowable limit.
Similarly, synthetic drugs are infamous due to their potential to be masked as domestic products such as incense, potpourri, bath salts, and jewelry cleaners. They are labeled unsuitable for human consumption to avoid quality control and government regulatory oversight, according to the Office of National Drug Control Policy. These substances usually cause psychosis, vomiting, hallucinations, and seizures.
The new challenge facing the Coalitions is the legalization of marijuana–confirmed by the passage of Prop. 64 last November. Martinez addressed the Colton City Council in January, expressing her concerns with the substance.
Colton Joint Unified School District Security Manager John Sachs assured parents in attendance that marijuana laws are still being enforced.
"The Prop. 64 law does not affect the educational code," said Sachs. "The laws are the same in regards to students who have possession of marijuana. It's still illegal. Just know that it's still not OK in the school system."
Bloomington Municipal Advisory Council Vice-Chair Israel Fuentes said change starts with the willingness of the community.
"When the community comes together there is power," Fuentes said. "We have power. With the help of God we will make a difference."