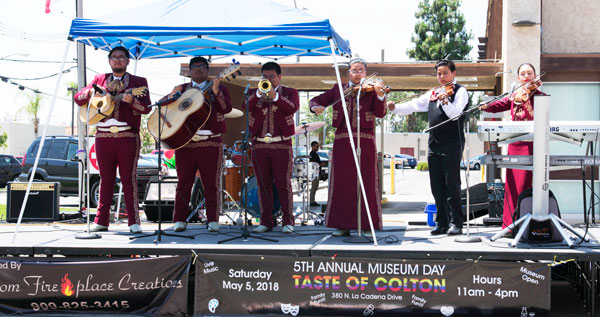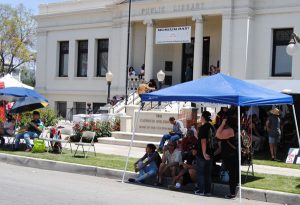 On Saturday May 5, 2018, the 5th Annual Taste of Colton event was held at the Colton Area Museum at 380 North La Cadena Drive.  A few blocks of the street were cordoned off as the sun smiled over the fittingly Cinco de Mayo-like festivities.
Families gathered under their pop-up tents and under the big shady trees on the museum grounds to soak in the variety of entertainment artists which included mariachi, the Colton High School Jazz Band, contemporary cover vocalists and dancers from The Ballet Folklorico del Corazon de San Salvador.

Booths from vendors, local businesses and artists were scattered throughout the streets and there was plenty of good food offerings from a taco truck, a kettle corn booth, a Peruvian food booth and more.  Many of the local businesses were offering small gift bags to the public and 3 Iron Brewing Company had opened up a small cantina for those who wanted to enjoy an ice-cold specialty brew. Family owned Hair and Co. worked its barbering skill magic to spruce up the men in the crowd in need of a trim or cut.
For the younger crowd, there were plenty of games to play, mechanical animals to ride down the middle of La Cadena, along with a jump house and water slide.  Raffles of items were on sale that would support the museum for future events and groups like the Colton High School Lady Yellowjackets Basketball Team, who came out in full force to participate in support of their city.
"I grew up in Colton," said event coordinator Noé Medina. "My grandfather had a business here and now I own it (Custom Fireplace Creations).  He's the one that brought me into the Kiwanis Club and encouraged me to give back to my city."
"The work I do for the Taste of Colton event is all from my heart, because I just want to give back to the people of Colton," Medina continued. "The people that really worked hard to help put this event on and make it a success were those people on the Colton Area Museum's board.  They should get all the credit for putting this together."
The board members include: Mike Murphy, Christina Perris, Frank Acosta, Jim Villegas, Chuck Vasquez, Marian Murphy, Edward Pedroza and Dr. Luis Gonzales (Dr. G).  Medina also gave a special recognition to Victor Ibarra of IB Music Center in Colton for all of his help.
"This is an event for small businesses, vendors, and civic minded groups that just want to celebrate our City," concluded Medina, "Anyone who might be interested in being a part of it next year can contact the Colton Area Museum at 909-824-8814."