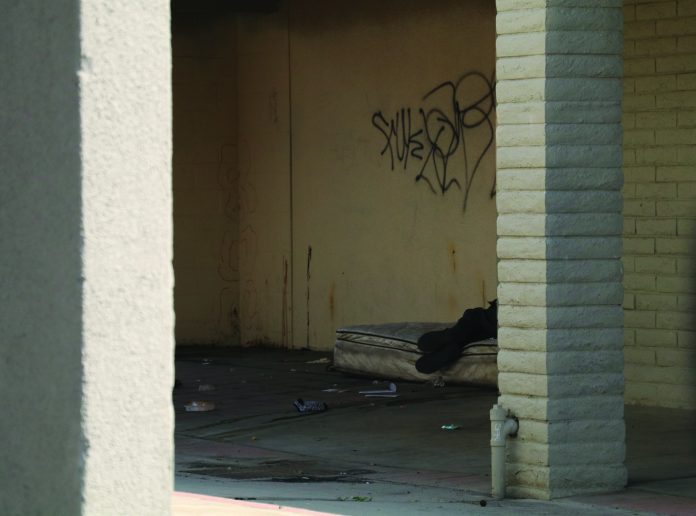 Physical and verbal assaults became a gruesome reality for William–a transient from San Bernardino that spoke of the "rough" living conditions of sleeping near feces-infested restrooms and on benches at local parks.
The 59-year-old former drug addict stood timidly at the Mt. Vernon Avenue Centrepointe Shopping Centre on a recent Saturday afternoon holding a sign that read, "anything helps, god bless."

"I'm trying to get my life back on track," he said.
Receiving food and water from church groups and nonprofits isn't an issue, William explained. Rather its receiving mental health treatment, job opportunities, and respect from residents.
However, there's discontent among locals that are beginning to see a large presence of homeless encampments, blight, and violent incidents. Many are beginning to ask for solutions.
"It's been an issue," said Magdaleno Moreno, who deals with angry and sometimes violent homeless individuals outside his restaurant, Leno's Rico Taco. "The city has to do something."
San Bernardino County's 2017 Preliminary 'Point-in-Time' Homeless Count surveyed and counted 1,866 displaced people throughout the region. The report released this month demonstrates that Colton currently has zero homeless individuals served inside transitional housing facilities and has 41 people currently living on the streets.
Mayor Richard De La Rosa said city officials have been meeting for several months to figure out ways to confront the issue. An approach De La Rosa suggests entails redirecting three Colton Police Community Resource officers to learn techniques and procedures to serve the homeless on a case-by-case basis.
"We have to train these officers on how to approach the homeless," De La Rosa said. "Currently there's no one dealing with this at a very deep level."
An official at the Centrepointe Shopping Center near the 215 freeway, who asked to not be named, explained she understands the hardships some homeless individuals endure; she remarked that she's experienced tough times. However, she believes certain homeless people are a nuisance to shoppers.
"There are some honest people out there," she said. "I never had to steal out of the store or nothing like that. Sit out here and observe and you'll see the desperation in some people."
Despite feeling uneasy when walking alone to the store at night, resident Faaby Bailon believes residents shouldn't fear the homeless and should provide assistance whenever possible.
"I help because it saddens me," Bailon said. "Whatever they did in the past is behind them. When someone needs help, we should give them help."