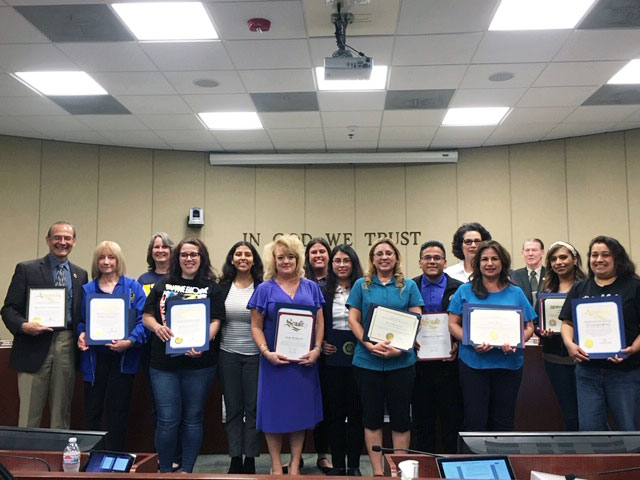 At the June 4 council meeting, the Colton City Council recognized teachers who live in the City of Colton in celebration of National Teachers Month. Councilman Dr. G (Dr. Luis S. Gonzalez) presented to the entire City Council 15 local educators at the ceremonial event. The event was planned to coincide with National Teachers Month at the end of the academic school year.
Teachers, families, and special guests were all in attendance while Dr. G recognized the teachers and presented the official "Teacher Appreciation Day" Proclamation. He also explained that this was the fourth time the teachers were being formally recognized both as a group and individually in the City of Colton, and was very pleased the City Council continued the tradition. The first Colton Teacher Appreciation Day was held in 2016.

"The Colton Teacher Appreciation Day is an important occasion for all of us," Dr. G mentioned during the presentation. "Teachers make a positive contribution to help our children succeed. They learn the Pledge of Allegiance, the U.S. Constitution, how to be responsible American citizens, and how to vote."
Plans are being made to continue the search for more teachers who live in Colton so that they may be recognized during the month of May, which is the official National Teachers month, as established by the U.S. Congress and the National Educators Association in 1985.
The ceremony also included proclamations from the offices of Pete Aguilar, U.S. Congress Member District 31; Connie Leyva, California State Senator, 20th District; Eloise Gomez Reyes, California State Assembly Member, 47th District; and Josie Gonzales and Dawn Rowe, County Supervisors, Fifth District and Third District, respectively.
Colton Joint Unified School Board of Trustees, Israel Fuentes, Bertha Arreguin, and President Joanne Thoring-Ojeda, were also in attendance to lend their support to the local teachers, many who work in the district.
The final recognition was presented to Dr. G (Dr. Luis S Gonzalez, PhD), who after 41 years teaching in the public schools, retired from a long-standing career in music and most recently, social studies.
The names of the Colton City Teachers who were in attendance (photo) at the June 4 Council meeting are: Jennie Blinkinsop, Andrea Bragg, Karen Coleman, Dr.G (Dr. Luis S Gonzalez), Kimberly Guadagnoli, Geri Marquez, Cheryl Meyer, Annamaria Reyes, Ashton Reynosa, and Raquel Rios. also in photo: Esmeralda Vasquez, representative from State Assembly Member's office; Edgar Castelan, representative from State Senator's office; Andrea Harlin, Representative from U.S. Congress Member's office; Kianna Maldonado and Heather Perry, Representatives from SB County Supervisor's office, and Jack Woods, Colton Council Member, District 5.
By Dr. G (Dr. Luis Gonzalez, Colton Councilman)