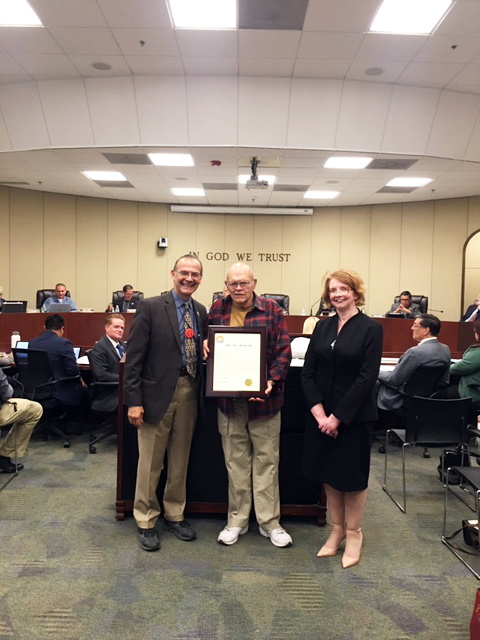 At the recent council meeting, the Colton City Council presented a proclamation to the Colton Area Museum Board of Directors recognizing Colton Area Museum Day's 6th Annual Celebration.
The Mayor, Council members, staff, and members of the audience all took pride in hearing about the great displays that were presented at the Saturday, May 4th event. One particular offering, the new Earp-Traintown Museum, was noted with great interest from those in attendance. Celebrating its first day with a "soft opening," this project has been in the works for several years as a brain child of Councilman Dr. G (Dr. Luis S. Gonzalez), who at the event, played host in costume, welcoming visitors to the museum.

"The Earp-Traintown museum is now open for business," exclaimed Dr. G, who also noted that "a grand opening is in the works, once our displays are finished."
Since 1991, the Colton Area Museum has served as a community anchor for maintaining and preserving Colton's rich history and cultural traditions. From buildings to sports stars, public safety to Colton High School, the CAM has displays and information of historical interest for just about everyone. Visitors to the museum's main room (upstairs) will be welcomed by one of the museum docents on duty, and have the opportunity see the many displays, ask questions, and compare stories.
The CAM Board of Directors appreciates the support of the Colton City Council who has once again recognized the museum program with a proclamation honoring the CAM Museum Day. Members of the Board include Mike Murphy, President, Christina Perris, Vice-President, Dr. G (Dr. Luis S Gonzalez) Secretary, Marian Murphy, Treasurer and board members, Chuck Vasquez, Frank Acosta, and Jimmy Villegas.
Community residents and visitors alike are invited to visit the CAM museum and attend its special "guest speaker" programs, which regularly fall on the second Saturday of each month.  Regular CAM hours are Wednesdays and Fridays from 1 p.m. – 4 p.m., and on Saturdays 11 a.m. – 2 p.m.  The Earp-Traintown museum is located in the lower level and is open on Saturdays 11 a.m. – 2 p.m.  The CAM address is 380 N. La Cadena Dr in Colton. For more information about the museum and its programs, including the guest speaker dates and the Earp-Traintown museum, call the museum at (909) 824-8814, or Dr. G at (909) 213-3730.
By Dr. G (Dr. Luis S. Gonzalez), Colton City Councilman