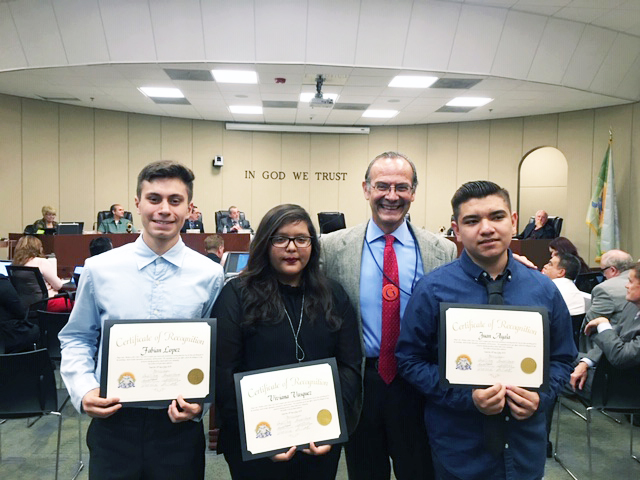 On Tuesday, June 18 members of the Colton City Council presented a proclamation establishing "Youth Leadership Day," and recognized three Colton High School students who successfully completed all requirements of the city's Youth Leadership Program.
The Youth Leadership program, sponsored by the City of Colton, has just completed its third year, running concurrently with the regular academic year. The major core of the program are the monthly workshops that are held in Council Chambers, and feature a series of guest speakers representing different departments throughout the city.

Approximately 10-12 students attend these workshops each month, which include basic leadership skills, guest speaker presentations, Colton history worksheet, a leadership opportunity activity sheet, questions & answers, closing statements, and calendar date announcements. Students receive community service credit for attending the workshops, and upon completion of all requirements, are recognized by the City Council.
Founder and Director of the program, Dr.G (Dr. Luis S Gonzalez), explains, that "the basic philosophy of the program is that young people will be adults in the near future. The more they know about our city, and are comfortable talking about municipal operations and community life, the better they are prepared to be knowledgeable and productive adult citizens in our community."
The ceremony also included a proclamation from the Office of Assemblymember Eloise Gomez Reyes, 47th District.
Written by Dr. G