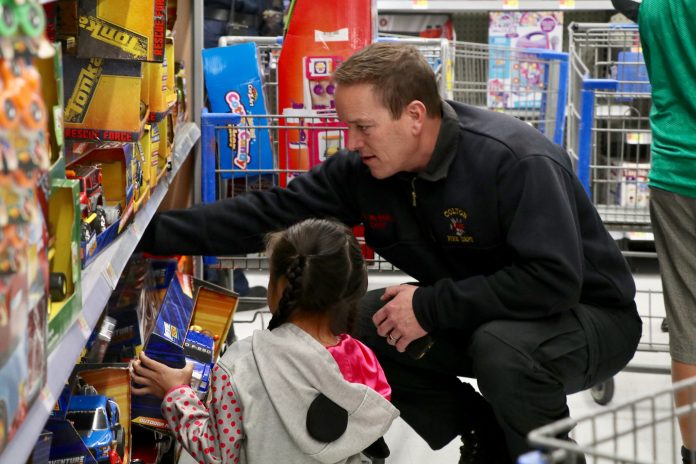 Around 50 students roamed the toy department at Walmart on Tuesday to pick out their own Christmas gifts, courtesy of the Colton Fire Department.

This is the 22nd year the department helps put on the "Make A Child Smile" event with the help of the Colton Joint Unified School District.
Coordinating the shopping spree has become an easy and special event to organize annually, Colton Fire Captain and Public Information Officer Tom DeBellis revealed.
"To see the smile on the kids' faces is heartwarming," said DeBellis.
Students from Alice Birney, Cooley Ranch, Grant, McKinley, and Wilson Elementary Schools arrived at the department store around 9 a.m. They were given $100 by firefighters to select bicycles, trading cards, and clothing of their choosing.
Many of the children are experiencing economic hardship, explained CJUSD Administrative Assistant Diane Calles. Receiving gifts is a first time experience for many of the students.
"It brings a lot of joy and happiness to our students," said Calles. "We're happy that [Colton Fire] and were able to provide for [the children] so they could have a merry Christmas."
McKinley fifth grader Lucino Becerril, 11, said he enjoyed spending time with the firefighters.
"They helped me pick out my favorite toys," expressed Becerril. "They are really good people."