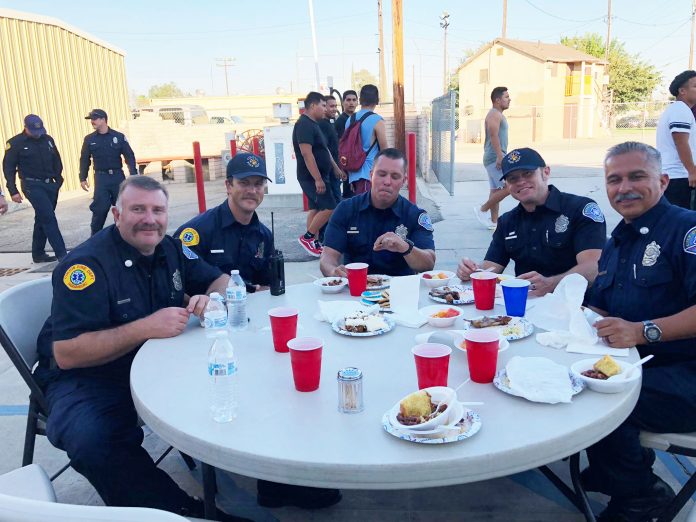 Colton First Assembly hosted its first barbeque event to recognize first responders, quite fittingly, on the memorial of 9/11 at the downtown firehouse.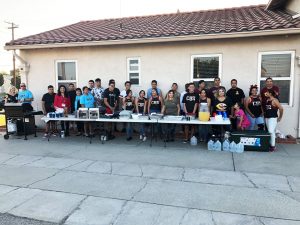 "(The event) is reflective of what America went through on 9/11, and second we want to remember how (first responders) serve our community everyday in our times of crisis and need," said Pastor Dave Ross. "Sometimes we forget the services they provide and this is an opportunity to say 'thank you.'"

The delectable feast of ribs, chicken, corn bread, macaroni salad, fresh fruit and carrot cake was prepared by "Master Chef" Beatrice Natividad.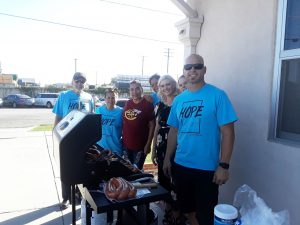 Colton High School football team and cheerleaders joined in on the fun by serving and cleaning up after the barbeque that had over 50 police and fire personnel in attendance.
The celebration is part of CFA's inaugural Love Week that kicked off Sunday night and will continue through Saturday, showing acts of love throughout the community each day. According to Pastor Ross it's an opportunity to let the community know there is a church that cares about their well being, and a church they can rely on.
Members of the congregation descended upon a local laundromat Sunday to pay for laundry; Monday they brought donuts to Grant and McKinley Elementary School teachers; Tuesday first responders were treated to a barbeque; Wednesday a pizza party at Grant Elementary School's after-school program; Thursday a visit to Vista Cove convalescent home in Rialto where volunteers will deliver carnations to residents; Friday is a homeless outreach where volunteers will seek out the homeless at bridges to hand out sack lunches; Saturday the community is invited to get their cars washed for free at Jumbo Savings on Valley Blvd.
Love Week will conclude with a Block Party at the church after morning service at 10:30 a.m. There will be a Taco Man, bounce house, Kona Ice and more.