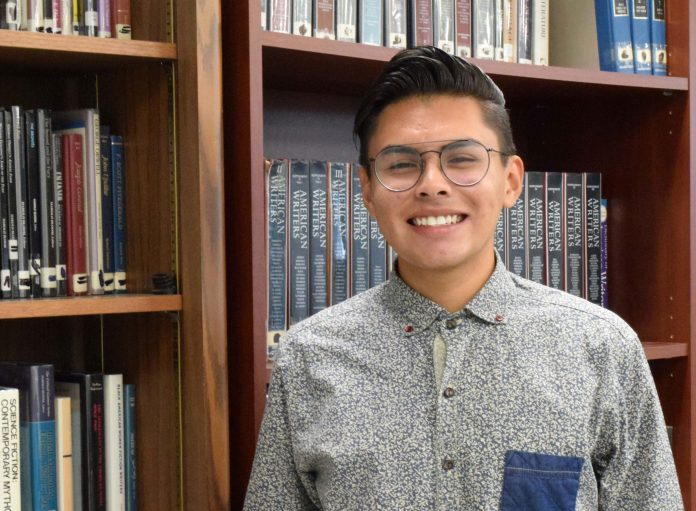 Colton High School senior and valedictorian Fernando "Xavier" Vazquez has been named as only one of 300 Gates Millennium Scholars, and will be able to attend the university of his choice with all expenses paid for four years.
This exceptional scholarship, offered with funding from the Bill & Melinda Gates Foundation – covers all college expenses, including tuition, books, room and board, personal expenses and more. Xavier was chosen for the scholarship from among 36,500 applicants nationwide.

Xavier hopes to pursue a degree in biomedical engineering and has been admitted to a long list of prestigious colleges. He is still deciding which to attend. Xavier said the accolades are encouraging, especially given the effort he has put in to realize his goals.
"It's hard work," he said. "Even if you have the most amazing talent in the world, if you don't polish yourself, you're not going to get anywhere."
Colton High School Principal Joda Murphy said Xavier's efforts and accomplishments have influenced others around him as well. Students are encouraged to follow in his footsteps and teachers are inspired, she said.
"He's uplifted this whole school," she said. "All of Colton is with him in this journey."
Xavier's path to success has not been an easy one. When he immigrated to the United States at 9 years old, he struggled with a new language and new culture. He didn't feel like he belonged and wanted to return to Mexico, he said.
His mother told him something that changed his perspective:
"She said I had an uncommon thirst for knowledge," Xavier recalled. "With that, the opportunities that this 'dreamland' would have would be unlimited. She told me this opportunity was something I could not pass over."
Xavier used the inspiration from his family to work hard and excel in school and has been admitted to several top universities including USC, Stanford, Johns Hopkins, UC Riverside, Columbia, and Brown universities. He hasn't made a final decision on which he will attend, but knows he wants to study biomedical engineering, a career choice inspired by a beloved teacher who was diagnosed with ALS (Lou Gehrig's Disease). He hopes to one day find a cure.
Xavier also has kept busy at CHS with several extracurricular activities including: President of the AP Honors Biology Club, Vice President of Mock Trial, and a tutor for the AP Scholars Club. He also is on the cross country team. He is active in the community too, helping with the Dinner Hour Ministry at his church, which feeds those in need. He also served as a young legislator for Assemblywoman Eloise Gomez Reyes and was the first runner up in the San Bernardino County Superintendent of Schools 32nd Annual Multilingual Awards essay contest.
Xavier said he hopes to make a difference in the world and to honor his family's sacrifices. "The future my parents built for me – brick by brick – gave me courage to ascend new heights and explore new depths," he said.