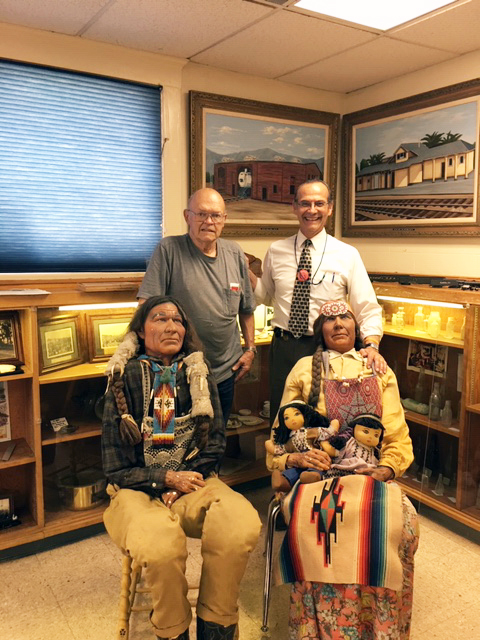 Plans are currently being made by the Colton Area Museum (CAM) Board of Directors to invite residents and guests to the "soft opening" of the new Earp-Traintown Museum. This event will coincide with the celebration of the 6th Annual Colton Area Museum Day, slated for Saturday, May 4, 2019 from 11:00am – 2:00pm.

The Earp-Traintown museum has been the brainchild of Board Member Dr. G for several years,  and has finally came to fruition with the recent departure of the Homework Assistance Center, which is now located at the Luque Branch Library, 294 East O Street. "The city has graciously made this location available to the museum," reported Dr. G, who added, "The CAM has been looking to expand for a long time."

CAM Board President, Mr. Mike Murphy, enthusiastically explains, "Were in the beginning stages, but very excited to be opening up this new wing to display our Earp-Train history. The potential ideas for growth is endless!" continued Mr. Murphy, who added "residents and history enthusiasts are encouraged to participate." 
In saying this, Mr. Murphy was putting out a call for any photos, or items of interest that residents or visitors might have that could be made available for display." 
Vice President Christina Perris, also commented "This is a fantastic step forward for historic preservation for the City of Colton." 
Many history aficionados would know that the City of Colton was established in 1887.  At that time, Virgil Earp, of the famous Earp clan, was appointed Marshall of the City. His father, Nicolas Earp, was City Recorder.  Morgan Earp, the youngest of the brothers, was buried at Hermosa Cemetery, and some family members lived in the house on H Street, which still stands. What many people may not know is that the City of Colton was actually a township before this time, going back to 1775, when the "town" of Colton was established. This event coincided with the merging of coast to coast railroad lines.
"The history of Colton is plentiful and fascinating," exclaimed Dr. G., "and much of the early years include train stories, and stories of the Earp Family. The new Earp-Traintown museum will capture this part of history."
Residents, visitors, and friends are invite to circle their calendars for Saturday, May 4, for the 6th Annual Museum Day, and the soft opening of the new Earp-Traintown Museum.  The CAM will be open that day from 11:00 a.m. – 2:00 p.m. providing the opportunity for guests to see the many outstanding displays of Colton history, including the new Earp-Traintown collection, which will be located on the lower level.  

The CAM address is 380 N. La Cadena Dr in Colton. Regular CAM hours are Wednesdays and Fridays from 1:00 p.m. – 4:00 p.m., and on Saturdays 11:00 a.m. – 2:00 p.m.
For more information about the museum and it programs, contact the museum at 824-8814, or Dr. G at 213-3730.
Written by Dr. G (Luis S. Gonzalez, Colton Councilman)