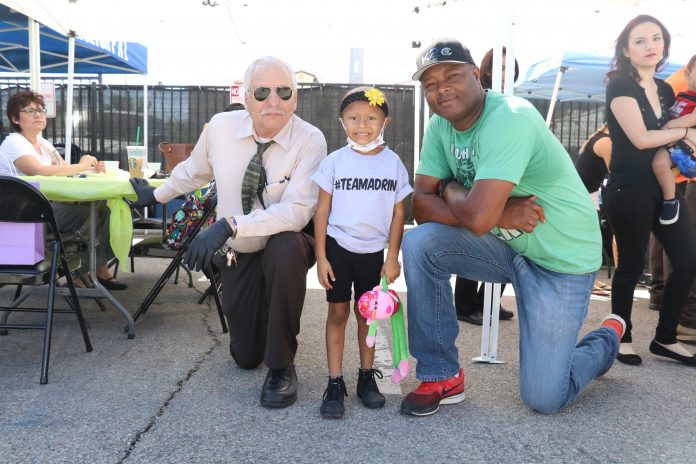 Mario and Raylene Alvarez explained life has changed significantly after their four-year-old daughter, Adrina, was diagnosed with stage four cancer in June. Raylene said doctors have found a tumor in her kidney, which has now spread to the child's lungs and lymph nodes.
The Alvarez's have reduced their workload to ensure Adrina completes her chemotherapy treatment and receives moral support. However, they said doing so has provided them with lots of economic hardship.

"It's been very hard," explained Raylene. "But her spirit is what keeps us going."
On Thursday the Colton Police Department surprised the Alvarez's by hosting a barbecue fundraiser at City Hall to support the family. Officers, business owners, and city leaders helped raise approximately $3,500 through the sale of hamburgers, hot dogs, and nachos.
"I didn't expect the turn out to be this big," Mario said of the 50 or so in attendance. "It's been very organized. Everyone has been very helpful."
Hosting the fundraiser was Detective Jack Morenberg's idea. "It began when we all took some police officers to a bake sale they put on," he said. "It's been real issue for the family."
Raylene, who works for the Colton Joint Unified School District as a clerical worker, has reduced her hours to commit to her daughter's treatment. Mario was laid off of his insurance job–something he admits has put him in a "rough spot".
"My boss explained he was laying me off to spend more time with my daughter, but he didn't understand my need to have something financial coming in all the time," the exasperated father said. "[Raylene] went back to work, so we had to switch roles. It's been hard for me to adjust to."
Despite the circumstances, both parents say they are glad Adrina continues being a little girl.
"She's taking it very well," both parents said. "She's running around and playing–doing everything a regular four year old would do."
Adrina's supporters and family have raised approximately $5,350 for Adrina through a GoFundMe page. For more information, visit here.