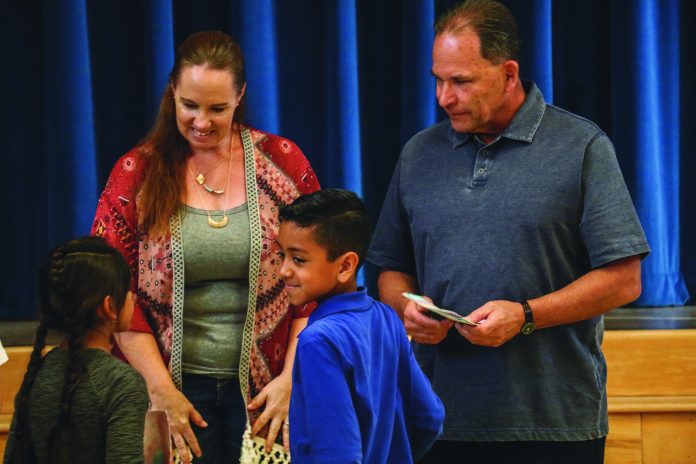 District employees get honored for working behind the scenes too, Ulysses Grant Elementary School Principal Kathleen Houle-Jackson told dozens of students during an assembly Tuesday.
Recently retired Colton Police Sgt. Robbie Bornsheuer was Colton Joint Unified School District's recent honoree. The longtime city patrol officer was given a resounding sending off by the students and staff at Grant in an emotional small ceremony.

Dozens of Grizzlies packed the cafeteria and surprised Bornsheuer with words of gratitude and letters of praise for his commitment to serving CJUSD students.
School Resource Officers Todd Smith and Rico Carrillo told students many of the activities they organize, such as the successful 'Fuel For Success' program, have been approved and supported by Bornsheuer.
"We had a lot support to go out to schools and share things about bullying and other programs because of people like him," said Carrillo. "This was all done to help support all of you."
Bornsheuer said the thing he will miss the most about Grant are the warm smiles of the children.
"The kids are so caring and loving," said Bornsheuer. "I realized this program was working when we began to see kids waving at us while on patrol. Just to see the change in their behavior and witness their self-esteem growing is amazing."