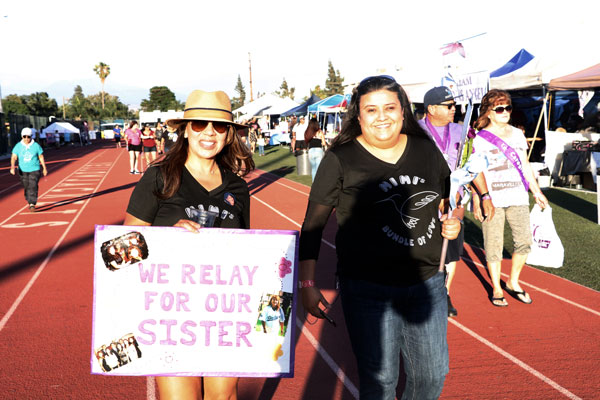 Thousands of cancer survivors, caregivers, and their family members walked hundreds of laps around Colton High School's football stadium this weekend in support of cancer research and funding.
This year's event was "extra special" for organizers because they reached their goal of raising $1 million–contributing to the American Cancer Society's efforts to curtail the illness.

"Everyone is here for the same reason–to put an end to cancer," expressed the event's chairwoman Marla Robledo during opening ceremonies. "Because of your support, the American Cancer Society is able to save lives by helping people get well and stay well."
Former chairman Randy Rivera told IECN last year that the event has raised approximately $842,000 in the last decade. That was before they amounted the approximately $100,000 at the end of the 2016 edition. As of May 21, Colton's 71 teams have raised  $73,819 in 2017.
Cancer survivor Rosemary Rubio Perez believes the city's fundraising efforts will come a long way in finding solutions for prevention and improved treatment for patients.
"Some people wonder why I give money for research," she said. "Because of research, doctors have improved the treatment of cancer. We walk because we all care."
The event began with an opening prayer by Immaculate Conception Deacon Bob Amador, the presentation of colors by the Colton Police Department, and the singing of the national anthem by Alexis Aldama.
Following the ceremonies, cancer survivors commenced the relay by walking a lap around the track and meeting their caregivers at the end.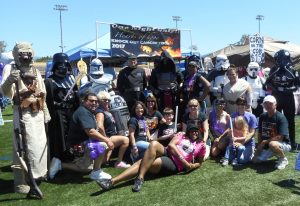 The afternoon and evening portions of the event featured a butterfly release and a luminaria ceremony, the latter resulting in tears and cheers as survivors released balloons and lit glow sticks and candles.
Claire Reis of Jurupa Valley first participated in Colton's Relay for Life in 2011–two years after her mother, Terri Neve, was diagnosed with breast cancer. Reis' mother did not survive her battle with cancer, passing away in 2013, though her legacy lives on through Team Terri.
"As we continued participating in the relay, we realized that every dollar raised was helping to prevent another motherless daughter," Reis said. "My relay team (Team Terri) has raised over $56,000 since 2011. We walk the track every year…with the hope that we don't add more names in honor or in memory of to the backs of our shirts."
Gabby Castillo, a member of the Mimi's Bundle of Love team, and her family became involved with the relay after her sister's passing four years ago. She felt they needed to do something to prevent
"It was a life changing experience," Castillo said. "People don't really react until it affects you personally."
Castillo praised relay participants and organizers for helping cancer awareness grow across the Inland region.
"Every year the event keeps on growing," she said. "I think it's good. It's worth spending your whole day here to educate people and get them involved."