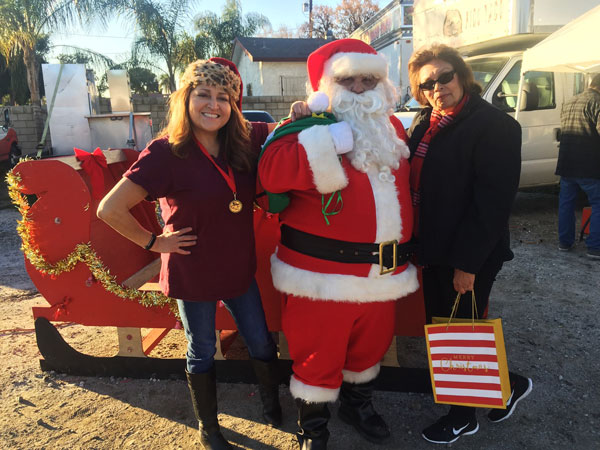 The Christmas season will soon be upon us, and Santa is sending out his secret helpers all over the world to make sure there are gifts for all the good little boys and girls.  In Colton, Gloria Gaona and her Seeds of Hope ministry have answered his call for the past 8 years by collecting and distributing 400-600 toys to local children each December.
This year, the give-a-way event will be held on Saturday, Dec. 16 at Leno's Rico's Tacos in Colton, as in years past.  Parents who have submitted applications for toys report to the designated area where they and their children are sent separate ways. Children head off to games, crafts and a line to meet and talk to Santa, while parents head over to Santa's workshop where they will select toys for their children and wait while Seeds of Hope volunteers wrap each present and prepare stockings for families to take home and tuck under their Christmas trees.

The applications require proof of each child in the household, and Gaona stated that income does not prohibit a family from being approved for the give-a-way.  "Sometimes families just can't make ends meet, and we make sure to try and give everyone an approval if at all possible.  We don't want any child missing out on Christmas Day."
For 2017 this merry group of Santa's helpers is looking for a few good elves to help stock Santa's Workshop shelves for the December 16th give-a-way.
"We would like businesses who are willing to take a donation box into their lobby to collect toys for our drive.  We would like to get donations from anyone who would like to give for this event and we appreciate the effort of the community that makes this give-a-way a success every year.  We're reaching out to ask for help because we just don't ever want to turn a family away," said Gaona.
You can become an official Santa's Elf by directly contacting her at (909) 856-0741.  
---
Join our newsletter for weekly wrap-ups of our community coverage, exclusive advertising opportunities and local business specials!