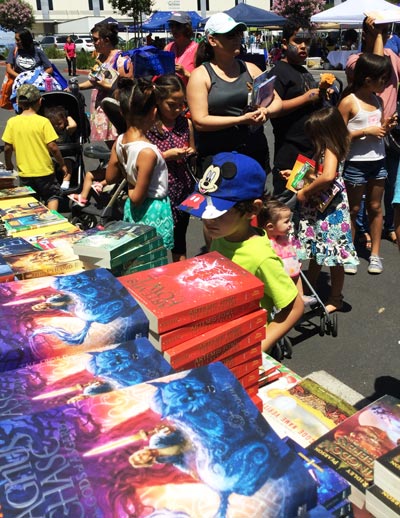 Community Action Partnership of San Bernardino is pleased to partner for the second year with the Molina Foundation to present our 2019 Summer Book Fest and Resource Fair. In 2018, CAPSBC held the first annual book fest and provided brand new books to hundreds of children across the County of San Bernardino as they began their summer vacation. Studies have shown that children who are exposed to a significant number of books have better vocabulary, increased awareness and comprehension. Books also expand their horizons and benefit them in their adulthood.
It is community support through sponsorships, donations, partner involvement and volunteer time that we can make the Summer Book Fest 2019 and Resource Fair possible to help at-risk youth and their families. The event will be on Saturday, June 8, 2019 from 10:00 a.m. – 2:00 p.m. at our offices located at 696 S. Tippecanoe Avenue, San Bernardino, CA 92408.

The event is designed to provide children with valuable books that will help advance their academic growth. CAPSBC wants parents to have the resources to help their kids achieve academic success.
At the Summer Book Fest 2019 and Resource Fair, kids will receive free age appropriate books. The Summer Book Fest 2019 will also include opportunities for children to "Read with the Butterfly," Face Paint and receive educational material at the event.
The children's books, valued at $88,000 were granted by the Molina Foundation to CAPSBC as part of their "Launch into Learning" campaign and will provide free educational resources to help children, parents, and caregivers create a prolific atmosphere this summer through reading and learning together. For information on sponsoring, donating, volunteering, and/or setting up a booth at the event, please contact Renee Smith at rsmith@capsbc.org or Charles Blythe at cblythe@capsbc.org.