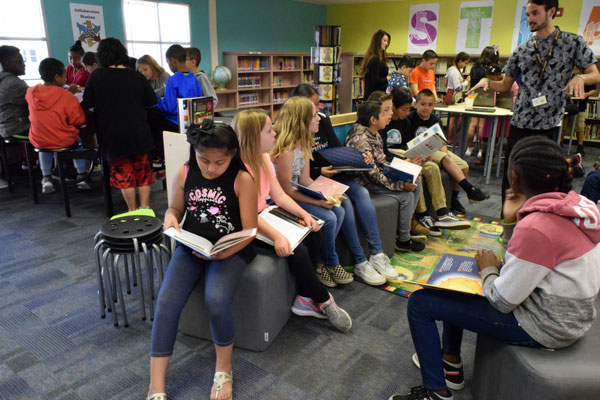 Cooley Ranch Elementary School held an open house on Wednesday, April 11 to unveil its new 21st Century Learning Commons.
The redesigned library now includes flexible seating, a "book nook" reading center, white board table where students can write and share ideas; technology center, maker space; a 3D printer and much more. The new Learning Commons is designed to help students to not only learn, but also collaborate and explore.

"It opens a whole new world of discovery," noted Principal Judy Scates. "It's not just connected to books. It's connected to the world." She added that the new space is truly an extension of the classroom.
The Cooley Ranch Library redesign was made possible with a 21st Century Library Grant, which the school earned last year. The grant was written by Teachers on Assignment Nyree Clark and Michelle Lopez and Librarian Lianne Doolittle. Cooley Ranch was chosen from among 12 district elementary schools that submitted proposals for the grant. A committee made up of representatives from the Association of Colton Educators (ACE), the California School Employees Association (CSEA) as well as Superintendent Jerry Almendarez and members of his Executive Cabinet selected the winning proposal.
Student Lilianna Taylor, 9, said she loves the new space and said it is more conducive to learning.
"I think it's really cool," she said, taking a break from completing a Flipgrid video presentation about Mars. "This is more fun than a regular library."
Parent Ruben Enriquez said he feels the new space will be helpful to students as they prepare for the future.
"It's preparing kids for the next level," he said. "It also gives them more access to computers and the internet."
"It's pretty amazing," added teacher Star Treff, who was guiding 3rd, 4th and 6th grade students on a project that involved researching information about the Mars Rover, then using what they learned to simulate the rover's landing by creating an airbag system that would protect an egg from a six-foot fall. Before such elaborate projects would be difficult when done in classrooms. Now, teachers have more space and resources to allow for multi-grade collaboration.
"We were like, oh, this is what we needed," she said