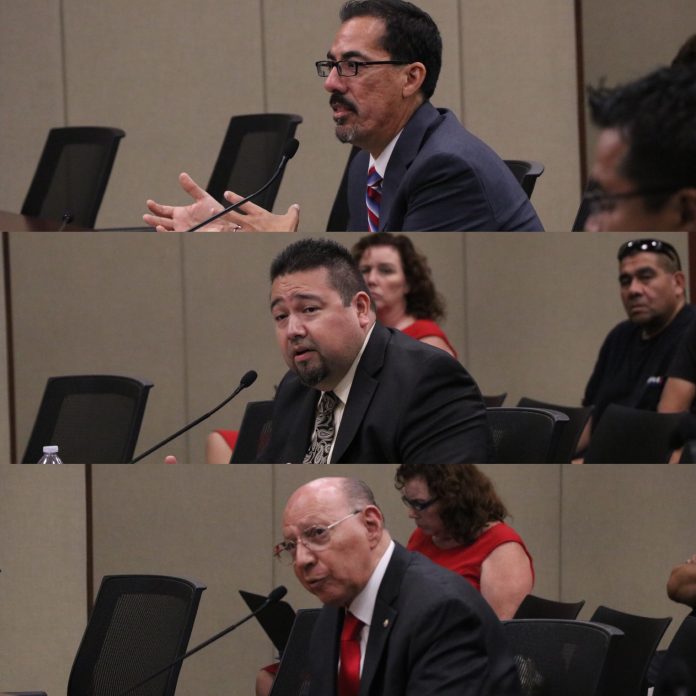 Despite spending over three hours interviewing candidates, the Colton City Council couldn't agree on who to appoint to the District 2 seat.
Instead, they voted 3-2 on Monday night to hold a special election to fill the seat vacated by Summer Zamora Jorrin in July. According to City Clerk Carolina Padilla, the election will be held in April 2018. Councilmembers David Toro, Jack Woods, and Isaac Suchil voted in favor. Councilmembers Luis Gonzalez and Frank Navarro opposed. Mayor Richard DeLaRosa was absent.

During the special meeting, each of the candidates was asked a series of questions: A set of questions designed by the City Clerk as well as questions that were posed from the dais by councilmembers.
"It's important to get out there in front of the residents and let them decide," Toro said about the council's decision. "Good luck."
During the special meeting, the City Council interviewed candidates Ernie Cisneros, Mike Razo, and Frank Gonzales individually–asking them questions about their public service, experience in government, and personal credentials. Candidate Jim Villegas was absent due to a personal commitment.
Cisneros, who sits on the Utility Commission and volunteers in the city, told the Council he's walked the district and observed the issues at hand. Homelessness, blight, and increasing costs are a concern he would address as councilman.
"I spend time looking around the district," explained Cisneros. "It's important to understand who my neighbors are and what their needs are."
Razo sits on the Utility Commission and works for the San Bernardino City Unified School District. When questioned by Suchil over bad choices the council might have made in the past, Razo was blunt. He cited the city's past issues with the trash contract and budget concerns as examples of the Council's ineffectiveness, also adding that, "We need someone who is not afraid to lead courageously."
"You say there's a need for people to lead," Suchil said asking Razo to clarify his explanation. "Can you expand on that?"
"With some of things that the city is facing, we need to make some tough decisions," Razo said. "We can't be afraid to say, 'No we can't do this.' There are some steps that should have been taken at the beginning. For example, "the commission was shocked because the decision (of the trash contract) never came to us," added Razo.
Gonzales, who previously served six terms as Mayor and three terms on the Council, said his experience speaks for itself.
"The proof is in the pudding," Gonzales expressed. "I don't know what else to tell you."
Navarro, while acknowledging Gonzales' past achievements, asked what else Gonzales could say about his character and philosophy regarding public service. Gonzales told the council he's a firm believer in doing what's best for the community.
"There's no way and no reason why we can't run the city without increases," Gonzales said. "We control multi-million dollar corporations."
Whoever wins the seat will be up for reelection in 2018.