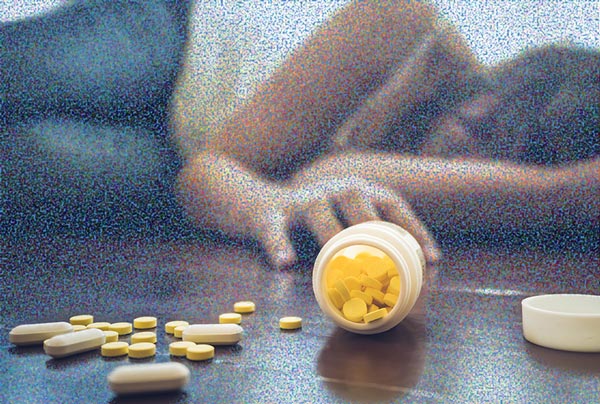 The County filed a lawsuit Thursday against several pharmaceutical companies, drug distributors and pharmacies over the aggressive and fraudulent marketing of prescription opioid painkillers and distribution practices that have led to a drug epidemic in the county and throughout the nation.
In 2017, at least 35 people died in San Bernardino County from opiate overdoses. There were at least 259 non-heroin opioid overdose emergency department visits in the county and 179 opioid overdose hospitalizations.

"The county and our residents are being severely affected by the opioid crisis," said Board of Supervisors Chairman Robert Lovingood.  "With this lawsuit, our county joins hundreds of counties across the United States in an important effort to hold these companies responsible for their role in creating the opioid epidemic."
In the complaint, the county seeks relief for the cost to the county to combat the public nuisance created by the drug companies' deceptive marketing campaign that misrepresents the safety and efficacy of long-term opioid use.  Additionally, the complaint alleges that the crisis has been fueled and sustained by those involved in the supply chain of opioids, including manufacturers, distributors, and pharmacies, who have failed to maintain effective controls over the distribution of prescription opioids, and who instead have actively sought to evade such controls.
The defendants in the lawsuit include Johnson & Johnson, CVS Health Corporation, the Kroger Co., RiteAid of Maryland Inc. d/b/a RiteAid Mid-Atlantic Customer Support Center Inc., Walgreens Boots Alliance Inc. a/k/a Walgreen Co., Wal-Mart Inc. f/k/a Wal-Mart Stores Inc., Purdue Pharma L.P., Purdue Pharma Inc., The Purdue Frederick Company Inc., Endo Health Solutions Inc., Endo Pharmaceuticals Inc., Janssen Pharmaceuticals Inc., Noramco Inc., Ortho-McNeil-Janssen Pharmaceuticals Inc., Janssen Pharmaceutica Inc., Teva Pharmaceuticals Industries Ltd., Teva Pharmaceuticals USA Inc., Cephalon Inc., Allergan PLC f/k/a Actavis PLC, Watson Pharmaceuticals Inc. n/k/a Actavis Inc., Watson Laboratories Inc., Actavis LLC, Actavis Pharma Inc. f/k/a Watson Pharma Inc., Insys Therapeutics Inc., Mallinckrodt PLC, Mallinckrodt LLC, Cardinal Health Inc., McKesson Corporation, AmerisourceBergen Drug Corporation, H.D. Smith Wholesale Drug Co., and Miami-Luken Inc.
"The lawsuit filed today on behalf of San Bernardino County builds upon the important work of addressing the opioid crisis," said Erin Dickinson of Crueger Dickinson LLC, co-lead counsel in the lawsuit along with partner Charles Crueger and Simmons Hanly Conroy Shareholder Paul J. Hanly Jr.. "Together, with Simmons Hanly Conroy, we will work to hold the defendants responsible and to secure help for the residents of San Bernardino County recovering from opioid addiction."
Overdose deaths are only one consequence of the opioid epidemic. Any of one of the nearly 1.5 million prescriptions written in for opioid medication within the county during 2017 could lead to addiction and costly public health consequences such as increases in Hepatitis C, increased neonatal abstinence syndrome, and increased drug crimes. This is why San Bernardino County has been working diligently to address opioid addiction among its residents.
Apart from the toll on human life, the crisis has financially impacted the services the county provides its residents. Human services, social services, court services, law enforcement services, the office of the coroner/medical examiner and health services, including hospital, emergency and ambulatory services, can all be severely impacted by the crisis. The conduct of the defendants causes counties to incur substantial economic, administrative and social costs relating to opioid addiction and abuse, including criminal justice costs, victimization costs, child protective services costs, lost productivity costs, and education and prevention program costs, among others.
The lawsuit alleges the defendants sought to create a false perception in the minds of physicians, patients, health care providers and everyone who pays for health care that using opioids to treat chronic pain was safe for most patients and that the drugs' benefits outweighed the risks. This was allegedly perpetrated through a coordinated, sophisticated and highly deceptive promotion and marketing campaign – including unbranded messaging to evade extensive regulatory framework governing branded communications. These communications, which began in the late 1990s, became more aggressive around 2006 and continue today.
Further, the lawsuit alleges that drug distributors have both the obligation and the tools to track suspiciously large surges in prescription opioid demand, including at the level of individual pharmacies or clinics. The lawsuit alleges, however, that the defendants have failed to use these tools to warn public officials about suspicious orders, which they are legally required to do, or to reasonably exercise controls over the obvious oversupply of opioid pills.
The San Bernardino County lawsuit follows similar, ongoing action filed by Simmons Hanly Conroy on behalf of counties across the country. In addition to California, Simmons has filed similar litigation on behalf of more than 200 municipalities in Colorado, Connecticut, Iowa, Illinois, Indiana, Georgia, Louisiana, Minnesota, Missouri, New Mexico, New York, North Carolina, Ohio, Pennsylvania, and Wisconsin.
In January 2018, Hanly was appointed co-lead counsel of the Multidistrict Opioid Litigation to oversee all federal litigation brought against pharmaceutical companies and physicians involved in the marketing of prescription opioids. Those cases are being heard in federal court in Ohio.
Additionally, Dickinson was named to the Plaintiffs' Executive Committee, a committee of 16 attorneys who will play a major role in the leadership and management of all the federal cases in the United States.